Adventure Travel in the Middle East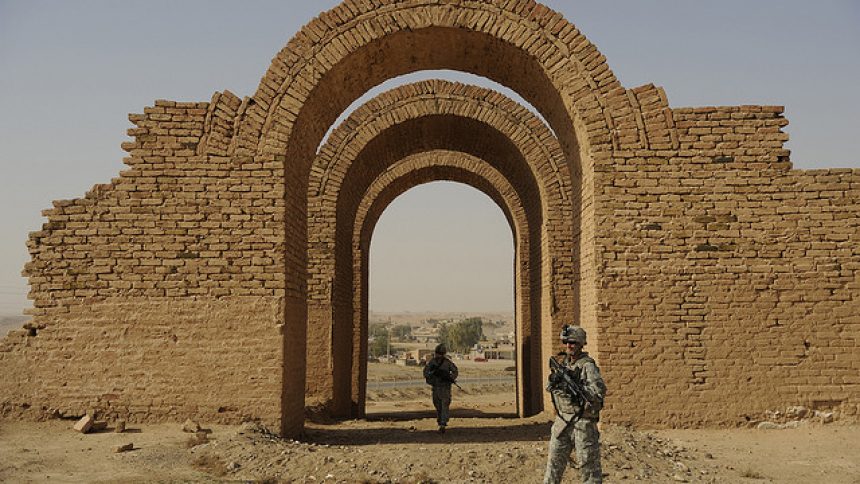 Iraq's Endangered World Heritage Sites
August 19, 2015
Iraq's Cultural Heritage
Iraq is incredibly rich in cultural heritage, no wonder, since it is one of the cradles of civilization, being part of Mesopotamia's Fertile Crescent along Tigris and Euphrates. Millennia of human history are documented here, partially still covered by sand, but partially already excavated and studied by early archaeologists.
While the former Iraqi president and dictator Saddam Hussein saw the ancient sites as a symbol of early Arab achievement and with that reflecting their glory on himself, he put huge efforts in the preservation and restoration of the sites. But now a threat besides time, sand and harsh winds has emerged: ISIS has announced to destroy Iraq's and Syria's non-Muslim cultural heritage in their fight against idolatry.
Videos published earlier this year show fighters of the extremist Islamic group smashing the famous winged bulls of Nineveh in northern Iraq, once capital of the neo-Assyrian Empire and largest city in the world. Shortly after, they turned towards their next target: Nimrud. Videos show how ISIS fighters bulldoze the archaeological site, and even use explosives to complete their destruction. Both are significant sites for Iraqi and human history, even though they are not listed as UNESCO world heritage site.
Confronted with this ruthless and irresponsible destruction of unique monuments, the UNESCO called these actions a war crime and stressed the importance of the protection of mankind's cultural heritage.
To give you a better understanding of what is at risk, we would like to introduce you to the three of Iraq's endangered World Heritage Sites.
Samarra
The archaeological city of Samarra on the banks of the Tigris is on the list of endangered World Heritage Sites already since 2007, and its use by different forces as base for military operations since 2003 is not especially beneficial for its preservation.
Samarra is a unique example for an Islamic city of the late antiquity, where still its original plan, its art and also its mosaiques can be studied. After serving as the capital of the Abbasid Caliphate in the 9th century, Samarra was rapidly abandoned after the collapse of the empire in 940. The inhabitants moved to other cities and Samarra fell to ruins. Since it has not been built-over during the next centuries, Samarra is a pure reflection of 9th century Islamic culture and innovation.
The whole archaeological site has a length of 41,5 km and is 4-8 km broad. About 80% of the area still has to be excavated and can bring more unique insights into early Islamic life.
One of Samarra's symbols and probably the best known building is the unusual minaret in spiral form.
Ashur
Ashur, inhabited already in the middle of the 3rd millennium BC, is another endangered UNESCO World Heritage Site on the banks of the Tigris. Originally it was threatened in 2003 by a proposed dam project, which was luckily stopped after Iraq was invaded. Now the ancient city is held by ISIS, who are infamous for destroying irreplaceable historical sites.
Ashur already looks back on a long history of destruction. After being a religious center dedicated to the god Ashur and the capital of the Assyrian Empire for several hundred years from the 14th century BC, it was sacked by the Babylonians in 612 BC.
The Assyrians returned centuries later and rebuild their former capital into an important administrative center. It was destroyed again in the 3rd century AD. However, Assyrians don't give up easily, they came back once more, till they finally left the city for good after a massacre on Assyrian Christians in the 14th century.
Ashur's resilience against destruction in the past raises hope for its future.
Hatra
The archaeological site of Hatra in northern Iraq just recently made it on list of endangered UNESCO  World Heritage Sites, when the sad news went public, that in March 2015 the site was destroyed by ISIS. The Islamist group proved with a video, which shows how ancient statues are destroyed. that it was not only a propaganda message.
Built in the 3rd or 2nd century BC, Hatra had quickly became a flourishing religious and trading center by the 1st century AD, as part of the Iranian Parthian empire. Later it was the capital of the first Arabian kingdom. As an important fortified frontier city with an inner and an outer wall including about 160 towers, it withstood two attacks and sieges by the Romans.When it was finally conquered by the Iranian Sassanid Empire in 238, Hatra was destroyed.
Hatra was famous for its pantheons of all kinds, Mesopotamian, Greek, Arabian and more, and its temples for the gods of many different cultures. In its architecture Hellenistic and Roman features mixed with Middle Eastern decoration styles.