Adventure Travel in Western Europe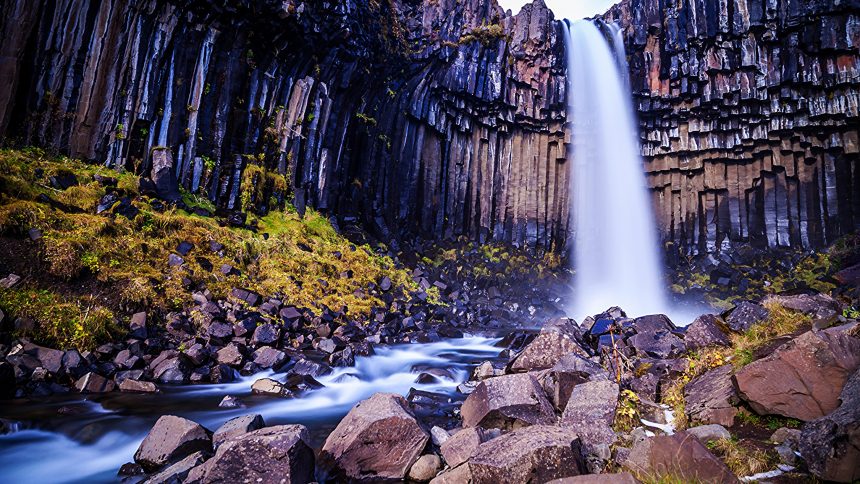 Incredible Adventure Holidays in Iceland
October 19, 2015
Iceland has got to be one of the most incredible places on Earth. Remote and rugged wilderness complete with volcanos, glaciers, ice caves, waterfalls and more. It's one of the few places you can see the Northern Lights, and it also boasts some of the best high-visibility diving in the world. The capital – called Reykjavik – is quaint when compared to other European cities, so it's when you head off the beaten path that you'll find out why Iceland is just so brilliant.
So, although Iceland has a population of just over 300,000, and sits on just over 100,000 square kilometers, this northern hemisphere outpost packs a mighty punch. See things you've never seen before, and do things you didn't think you could! Plan one of the most unforgettable adventure holidays in Iceland.
Ski the Westfjords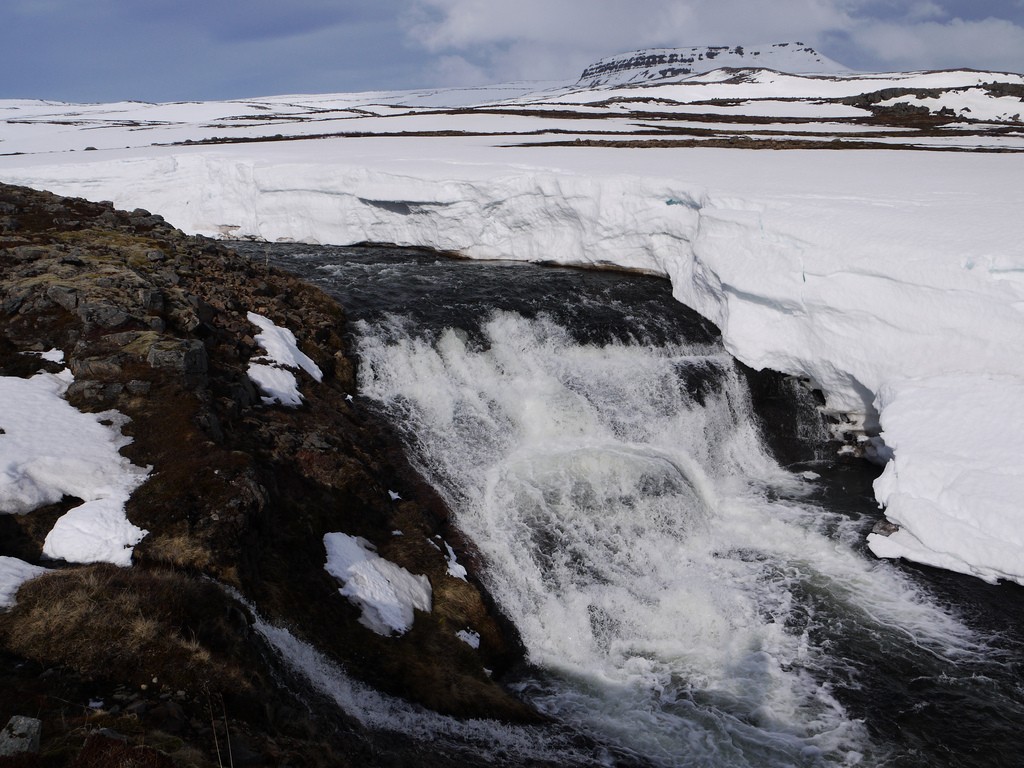 Photo By: Bernard McManus
The Westfjords is a peninsula off the north west of Iceland, it's one of the most beautiful areas of Iceland but it's often left off the tourist route because of it's so remote. It's on the edge of the Arctic Circle with dramatic cliffs and the moving ice of the Drangajokull Glacier. It's possible to ski or snowboard parts of the Westfjords by hiking to the summit and skiing down (even to the beach) or perhaps this is your chance to heli-ski. At certain times of year you can take a scenic helicopter ride to the summit and ski or snowboard all the way down. Great for experienced cross-country skiers too!
And, if you've ever wondered what it's like to live in complete darkness? Iceland is your place! From late November until late January, there's only a couple hours of daylight each day – and no direct sunlight! Whoa. But beware the severe storms and blizzards, that can hit this region can be life-threatening, so come prepared. Also, remember the reverse is also true – in the summer months, there is near 24 hour sunlight, the spectacular midnight sun is one of the world's incredible phenomenons.
See the Northern Lights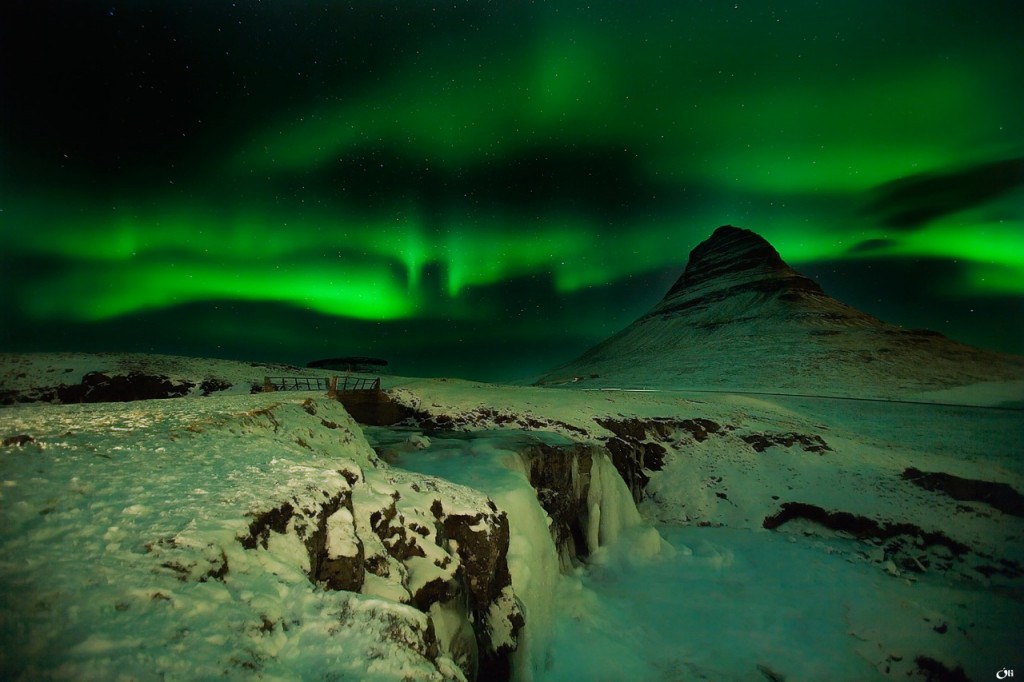 Photo By: Victor Montol
The dancing green lights that put on quite an incredible sky show are an unpredictable event. However, the best time to see the Northern Lights in Iceland is between September and April, when there is full darkness at night. The weather also plays a big role; because the sky needs to be clear to see these lights. The Northern Lights are said to be cyclical so it's worth staying for about a week to give you a chance of seeing it on at least one of the nights. Of course, interference from urban lights can also play a role (although sometimes the capital, Reykjavik, is also bathed in green despite the city lights). Nonetheless, it's better to be in a remote, sparsely populated area for your best chance.
In the photo above you can see the Kirkugell Mountain – a small mountain that sticks out of the flat landscape. Nearby you can find small waterfalls and it's said to be the perfect place to admire the special natural light-show aka the Aurora Borealis.
Hiking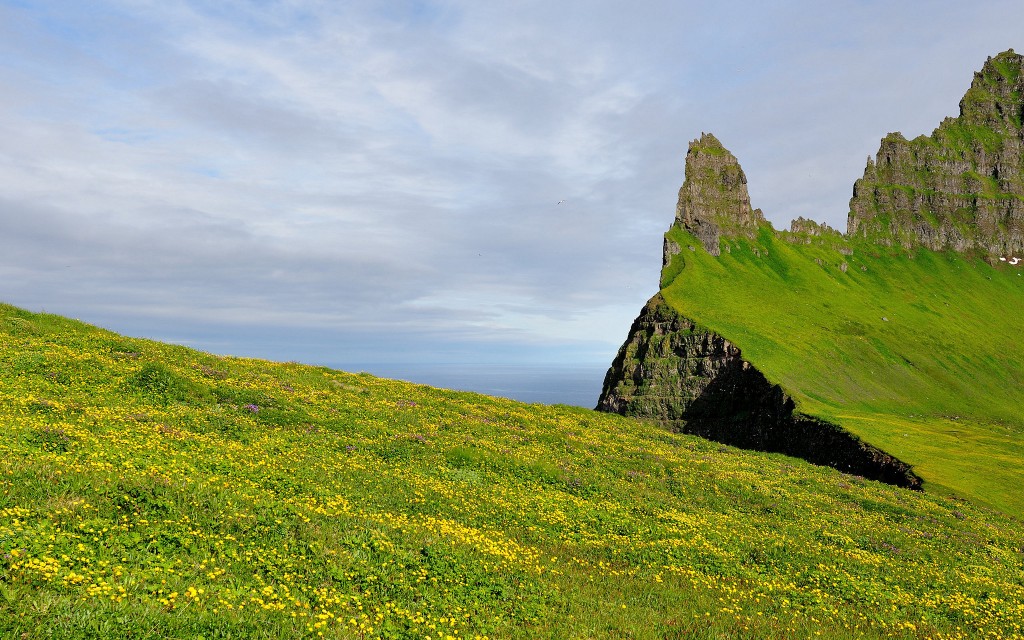 Photo By: Erik-Jan Vens
Hiking, in itself, can be very challenging in Iceland because of the unpredictable weather and terrain. Many foreigners have gotten into trouble because they've underestimated the natural conditions. Take plenty of layers and prepare for all conditions as the weather can change from one moment to the next. Always have a plan and make sure you let others know where you'll be going in the event that something goes wrong! The image above shows the Hornstrandir Peninsula, which is located on the Westfjords that we wrote about above, this is a beautiful and scenic hike in a very remote part of Iceland. Elsewhere, another one of the most popular treks is the Landmannalaugar Trek; this is more than 50 kilometers and takes about five days. If you're interested in volcanoes, you could tack on the Fimmvörðuháls Trek to the aforementioned Landmannalaugar Trek. Of course, there are many other routes, especially through national parks, and it's even possible to do glacier hikes… but more on that below!
Drive on a Glacier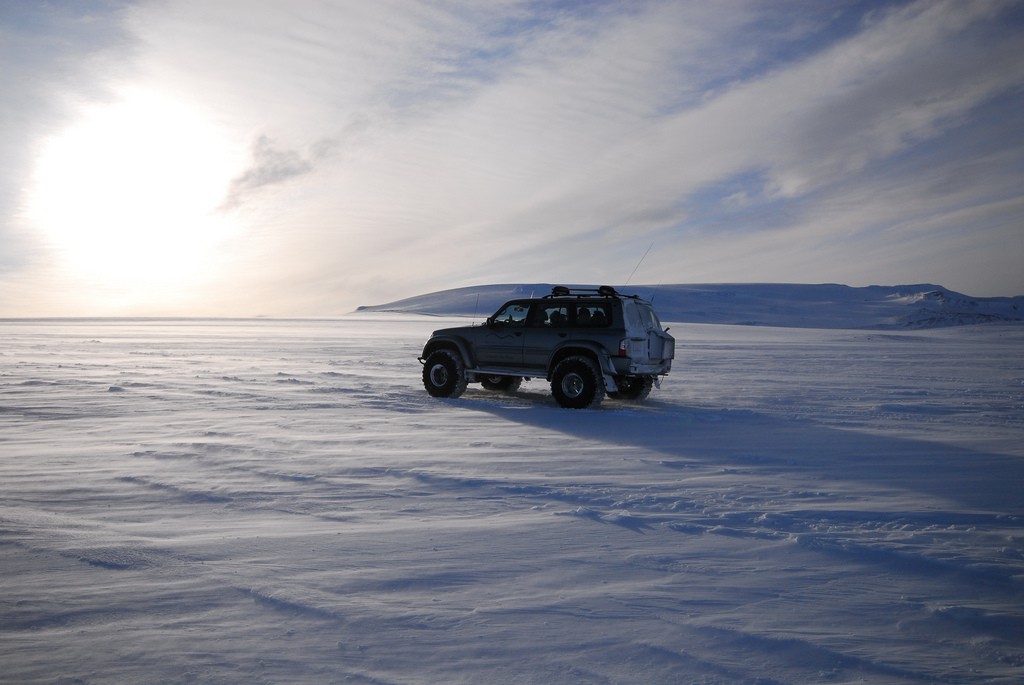 Photo By: martin_vmorris
As with many adventure activities, what sounds crazy to one person, sounds like a brilliant idea to another. Driving on a glacier is one such example. There are local tour companies offering you the chance to set off in a Jeep on some of the most incredible terrain on Earth. There are both self-drive and guided drive options, and many take you on a multi-day expedition, so you can mix it up with other activities such as ice climbing, kayaking and trekking along the way. Don't worry most of the 4x4s have been specially modified for these dramatic conditions, and tour guides know what they're doing on the icy terrain.
Water Sports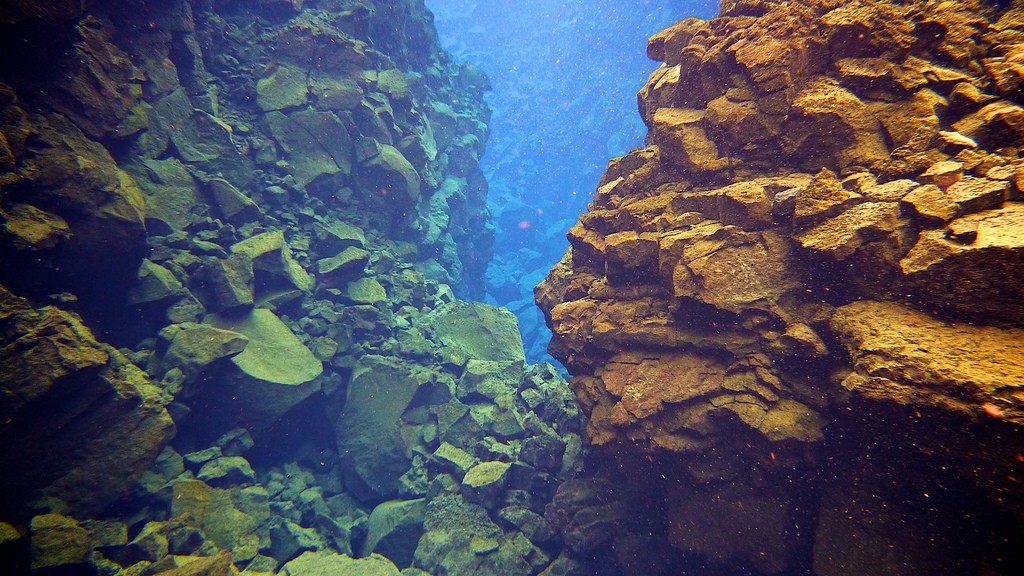 Photo By: Ronald Eliassen Hole
This Nordic island country sits between the North Atlantic and the Arctic Ocean, so it's obviously surrounded by water, but it's also peppered with rivers, waterfalls and lagoons so there's no shortage of water sports in Iceland. From white water kayaking, to surfing – this place literally has it all. Of course don't expect warm tropical waters; be prepared to get freezing cold particularly during ocean dives!
One very special activity in Iceland is the scuba diving. Unexpected right? Of course, there are no corals or tropical fish to be found here, but what you do have is some of the wold's clearest/best visibility. Diving in Iceland is highly recommended – particularly the Silfra Fissure, which is a world-famous dive site in the Thingvellir National Park. Did we mention that the visibility can exceed 100 meters! Incredible, when you consider most dive sites around the world boast about visibility of 30 or 40 meters! The other incredible thing at the Silfra Fissure is that you'd be diving between the American and Eurasian continental plates, meaning you can touch two continents at the same time!
While in Iceland you could also try diving in one of the hot springs, and if you're into water activities, but not so much getting wet, go on a whale watching tour. Whales are most likely to appear May to September.
Ice Climbing and Ice Caving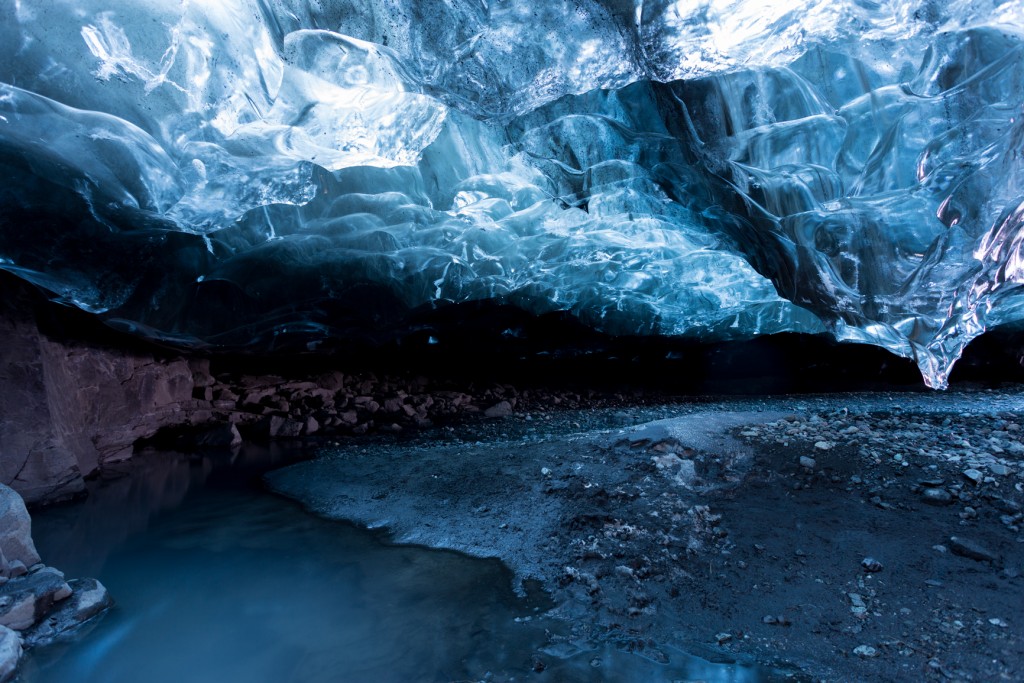 Photo By: David Phan
Ice climbing and ice caving in Iceland: it's a match made in heaven, thanks to the almost limitless opportunities to do these sports for those who dare! There are tougher climbs for those with experience, but even first-timers can give it a go. Good tour companies offer plenty of training on how to use the equipment beforehand for newbies. Sometimes referred to as Crystal Caves, the ice caves and ice tunnels of Iceland are simply magical! Local tour companies can guide you on which is the best ones to visit for your skill level, and time availability.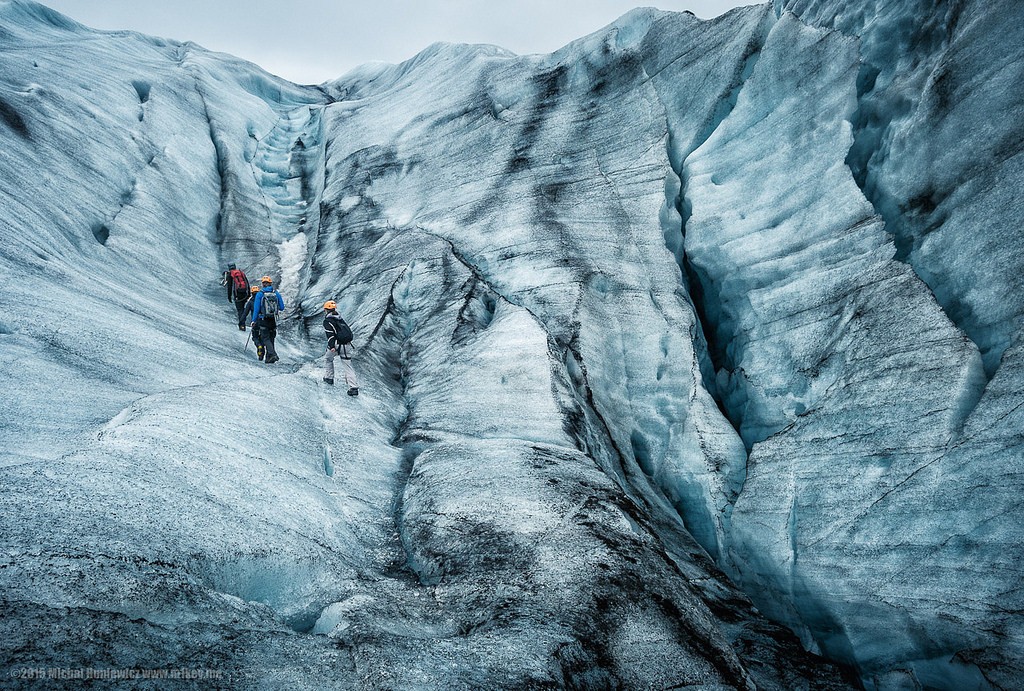 Photo By: Michał Huniewicz
Volcanos and Geysers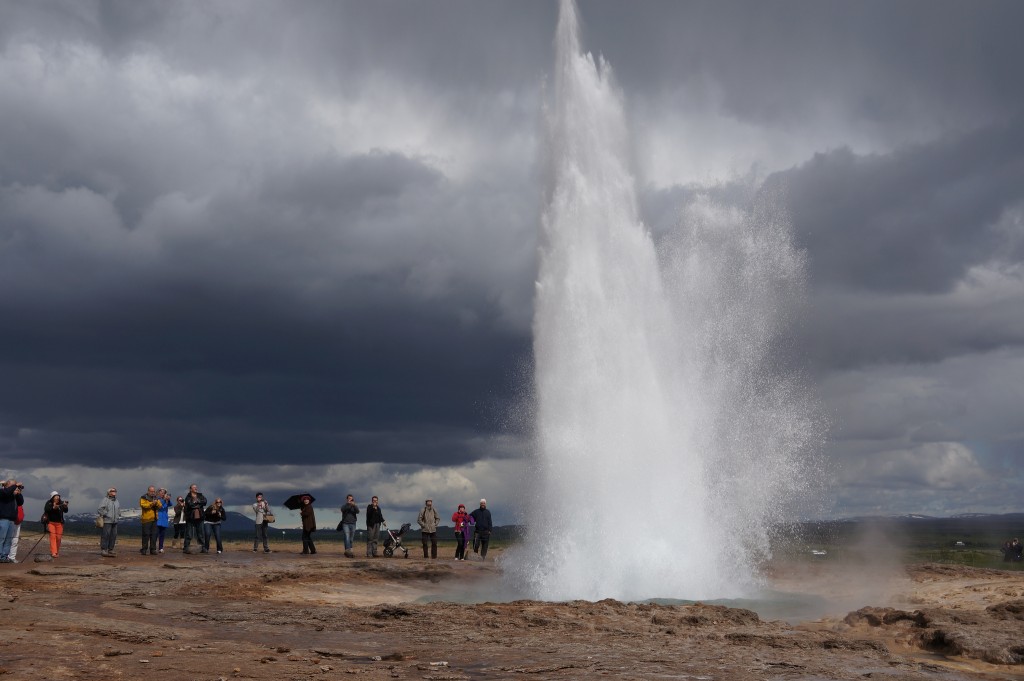 Photo By: Rachel Docherty
As we mentioned, Iceland has it all – even volcanos! Many will remember the eruption of 2010, where huge plumes of ash cloud wreaked havoc with flights for weeks. There are volcanos like the Hekla Volcano and the Maelifell Volcano; there are also lava fields in Iceland that you can visit. Geysers in Iceland are as beautiful as they are frightening. Geysers involve boiling water and steam gushing meters into the air; sometimes as high as 70 meters up! The Great Geysir in the south west of Iceland is the original and the best geyser (after which all other geysers were named).
Gullfoss Waterfall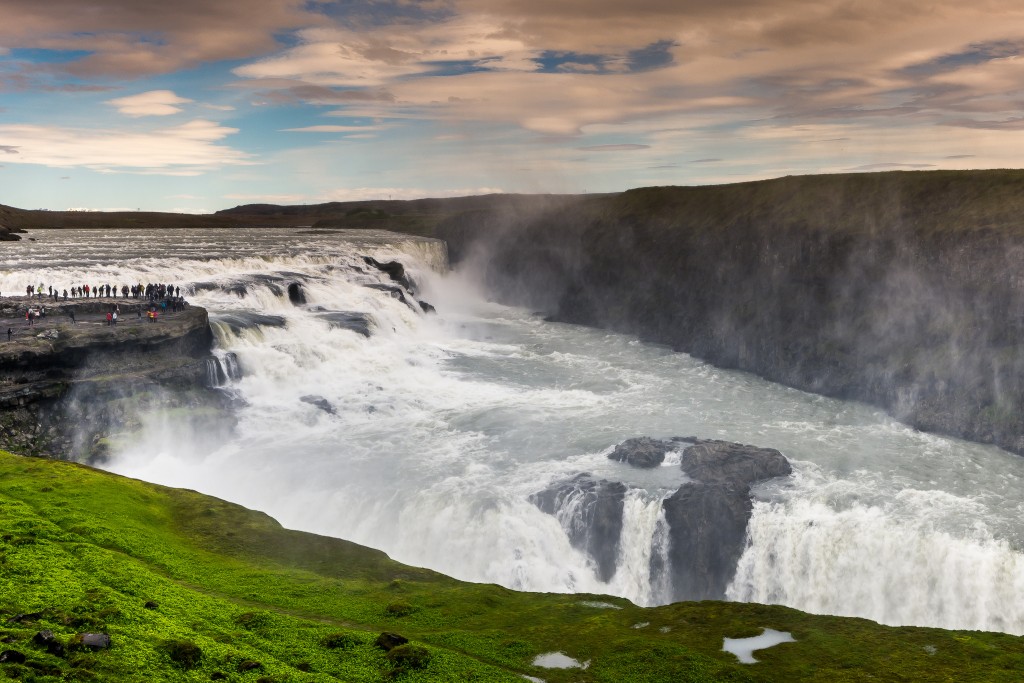 Photo By: Sascha Sormann
Iceland is dotted with waterfalls, but one must-see is the Gullffoss Waterfall (pictured above). It's located within the Golden Circle (an area dotted with tourist-attractions and the most heavily concentrated network of tourist activities) and in and of itself Gullfoss is one of the top tourist attractions in Iceland. Summer is when the plunge of water is at its most intense.
Another must-see is the Svartifoss Fall in Skaftafell at the Vatnajökull National Park. This is the waterfall pictured in the main image of this article, and its particular lava column formations make it a very appealing photo spot for tourists.
And Relax…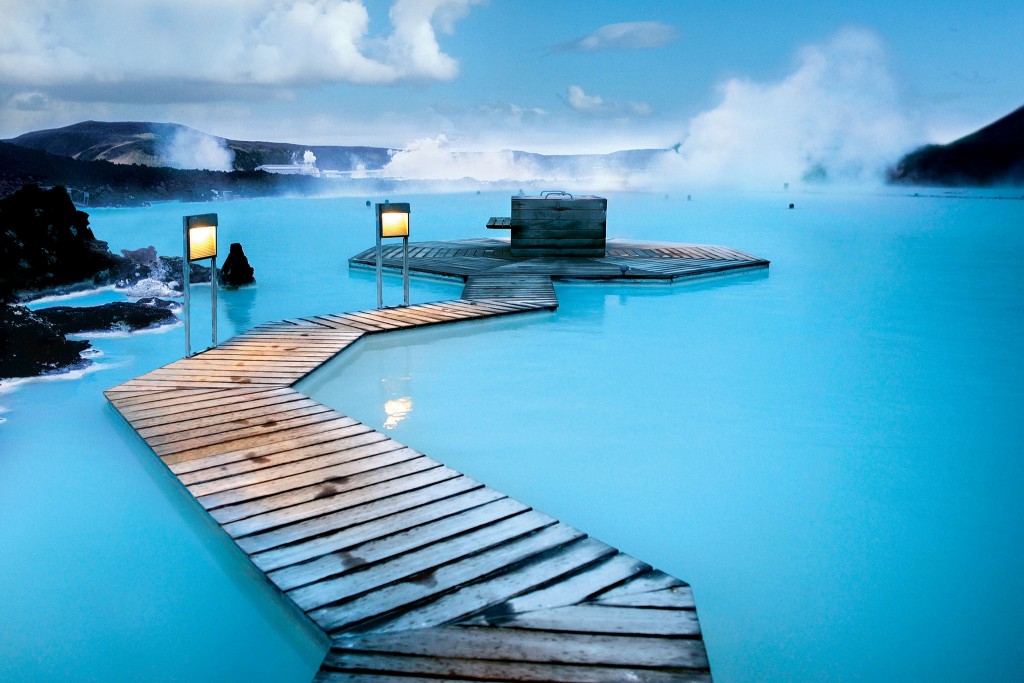 Photo By: Roderick Eime
After all of these adventurous activities, it's time to take a break. Rest your bones in the Blue Lagoon, a geothermal natural spa. Have you ever seen water as bright blue as this? The water is a deliciously hot 38°C and packed with minerals.
Of course, adventure holidays in Iceland are never complete until you've spent a few days in the capital Reykjavik. Need more inspiration to visit? Here's one last image… dawn breaking over Iceland: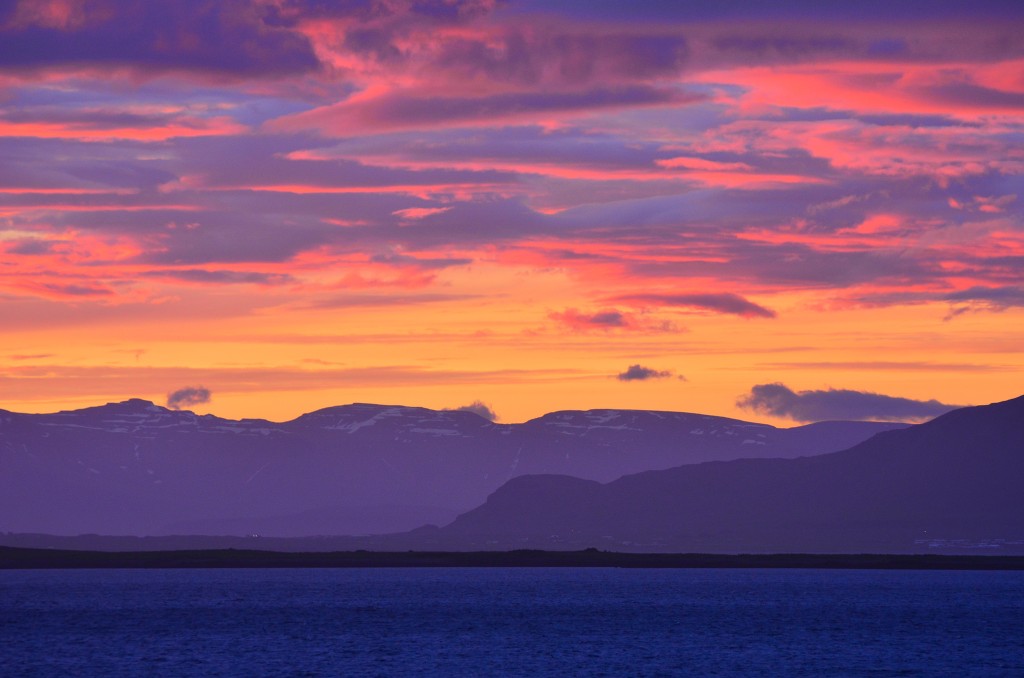 Photo By: Ben Sutherland