Adventure Travel in North America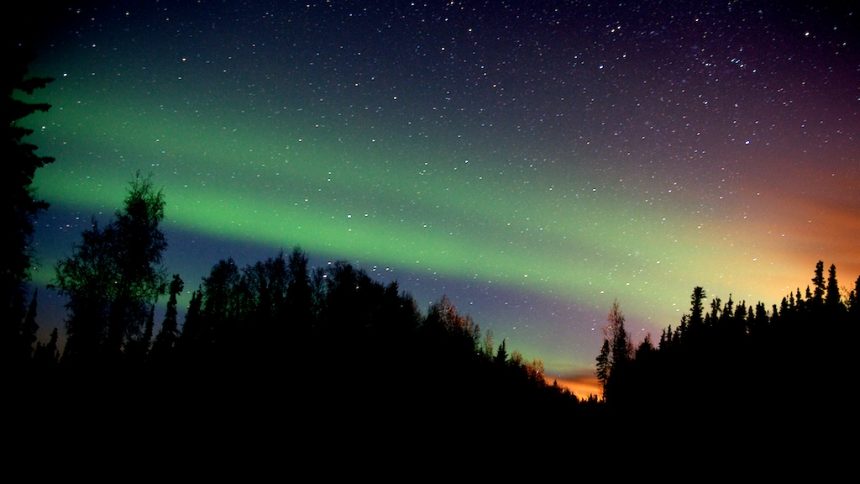 8 Spots to See the Northern Lights This Winter
October 20, 2015
Many have seeing the Northern Lights on their so-called bucket lists. Those incredible green, red, yellow, purple or blue ribbons of light that appear above the world's northernmost regions. The dancing lights are a phenomenon also known as the Aurora Borealis, and from a handful of lucky northern countries you too can see this stunning natural light-show. The Northern Lights are quite an elusive wonder, so make sure you give yourself a few nights in one of the locations mentioned below, and make sure you head to a remote area away from city lights that can disturb the view. The Northern Lights are most visible during the Northern Hemisphere's winter when the nights are longer and darker, although, having said that, seeing them requires a clear night with good weather; so sometimes the middle of winter with its severe weather conditions can actually hinder the view. For this reason late autumn and early spring can also be ideal.
The Aurora Borealis occurs when electrons from solar winds collide with atmospheric elements of the ring of the North Pole, and so it travels in a kind of oval shape around the top of Earth. There are some Aurora forecasts available that can give you an up to date guide as to where you might be able to best spot the phenomenon.
It is a luck game, and that's why seeing the Northern Lights this winter would be so special. Here we reveal eight of the best spots to head to with this aim in mind.
Canada
Canada boasts the two largest dark sky preserves in the world. The Jasper National Park and the Wood Buffalo National Park. A dark sky preserve is an area that is kept purposefully dark from man-made light pollution (eg. urban lights) so that the sky can be better observed. The darker it is on the ground, the easier it is to see the Northern Lights (hence why it's often hard to see the lights when you're in a city). But, other than these, where are the best places to see the Northern Lights in Canada? Well, at spot called Labrador you can see fjords and icebergs with the Aurora Borealis high above, how nice is that! If you're keen to head off the beaten path, head to Iqaluit in Nunavut, which is the remotest part of Canada, and the lack of man-made lights, makes the viewing equally incredible. Beware it's so remote you have to get there by plane or (sometimes) by boat. Want to meet fellow Aurora hunters? Head to Athabasca Country in Alberta, where there's even a handful of NASA stations.
Iceland
We wrote about the best adventure holidays in Iceland recently, and no visit during the winter months is complete without checking out the Northern Lights. Read more here.
Norway
The Aurora Borealis occurs at high latitude, that's why the further north you go the more likely you are to glimpse the light display. Norway is far north, and the northern parts of the country are – obviously – even better for light hunters. If the weather permits, and the lights are on full display, you can see the green hues wherever you are in Norway, but for you best chance head above the Arctic Circle to northern Norway or the Svalbard Islands. The largest portion of the Northern Light Belt flits over Norway, so this is probably the country offering the highest chance of seeing a good light display.
Finland
With a bit of luck, Finland (particularly the northern parts) offers a pretty high chance of seeing the Northern Lights from late August until early April. Like elsewhere, try to avoid bad weather days, full moon nights or areas that are built up with lots of man-made lights as these will detract from the intensity of the lights. Finland offers two good options: for those who are outdoor adventurers combine a night of cross-country skiing or sled dog touring with taking in the bright lights; or if you prefer your creature comforts there are some spots in Finland where you can view the lights from inside a glass igloo! We can't think of anything sweeter than laying in bed and looking up to see those magical lights!
Sweden
Why not take a snowmobile tour of Sweden's Lapland; a wild and exotic place where you can try all kinds of winter sports as well. You could also head to the Aurora Sky Station in the Abisko National Park, which is one of the world's best spots to see these lights. It's located on Mount Nuolja, which is in an area that boasts frequent clear nights, as well as relatively small levels of interfering urban lights. Take a chair lift up to the tower, from where you can see a multitude of stars as well as hope to glimpse the Northern Lights. There are guided tours as well and it's recommended you book in advance. For those who can't make it to Sweden, they have a live webcam up and running during winter.
Scotland
If you're lucky enough to be in the right spot, at the right time you could be treated to this beautiful natural light show for merely seconds, or even several minutes. January is considered the best time to see the Northern Lights in Scotland, and while they can potentially be seen all over Scotland, the best parts are in northern regions plus in more remote areas that aren't near bustling city lights.
United States
Alaska is undoubtedly a magnet for adventure travel lovers, but did you know that you can see the Northern Lights even from this state of the US? Your best bet is to head to inland Fairbanks. As we've mentioned these are unpredictable night lights, but we recommend that on a crisp, clear, dark night between 11.30pm and 3.30am you have the highest chance. If you can see the stars well, it's a good sign. Some natives of these lands believed these lights had mystical powers, or were the dancing spirits of the dead.
Greenland
You can see the Northern Lights from almost everywhere in Greenland from September to early April. They occur during the summer months too, but you can't see them then because during summer they have almost 24 hours of daylight in Greenland, including what's known as the midnight sun. So, of course, because of that sunlight the green Northern Lights are drowned out. Greenland in itself is a top destination for those who love adventure sports – particularly of the winter snow and ice sports variety.
So there you have it, now all you have to do is see the Northern Lights this winter; you must do this!
+1 Southern Lights
If you happen to be in the Southern Hemisphere, it may be easier for you to see the Southern Lights or Aurora Australis. The Southern Lights are exactly the same as the Northern Lights except they occur in a belt around the South Pole located on Antarctica. The Southern Lights can be seen from spots in Antarctica, South America, New Zealand, and Australia. Although it must be said, seeing these famous green lights from these regions is much less common than those mentioned above on this list. Nonetheless, you can see a real time view of where these lights are here.