Adventure Travel Applications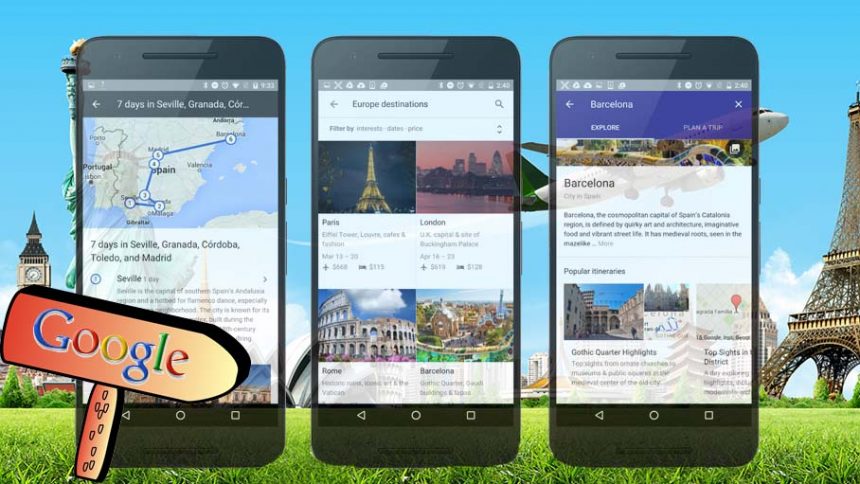 How to Use Google Destinations Feature
April 28, 2016
Recently, travel enthusiasts are bothered with the question of how to use Google Destinations as it is the new revolutionary tool of Google which is dedicated to travelers solely.
There is no single month that Google leaves us without a new technological development. The new tool of Google, Destinations has revolutionary features since it renders the whole process of planning a trip easier than betting on US Presidential Election 2016 online. Normally, you need to check a lot of websites and travel apps in order to plan the perfect trip for yourself. Thanks to Google Destinations, you can do it in only 3 simple steps. You don't think it is possible? Well, read on and learn how to use Google Destinations to plan your tailor made trip in 3 steps.
How to Use Google Destinations Step 1: Search the Right Keyword
In order to use Google Destinations, you don't need to download an app. Use Google search screen of your smart phone and type a continent or a country using the search term "destinations". For instance, searching for the term "Europe Destinations" will bring you most popular travel destinations in Europe. You can also choose your interest to see a more specific list. If you choose camping, Google will show you the most popular camping destinations in Europe. If you type "Japan destinations" and select hiking, then you will see the most popular hiking destinations in Japan.
Google always work with the mentality of a search engine. Therefore, you see the most searched destinations before the others. So the whole concept of popularity is based on the number of searches. If you are not looking for a popular destination, you can just scroll down and find more alternatives to travel to.
Google Destinations also show the cheapest months indicating the high and low seasons. The highest and lowest temperature in a specific month is shown along with the precipitation amount. The average cost of a 3-star hotel is also shown besides airfares from your location to the designated location. These constitute the information package that you need before you travel. However, you can also reach detailed descriptions about locations, landmarks, museums and restaurants as well so that you will know everything about the location that you will travel to.
How to Use Google Destinations Step 2: Enter Your Preferences
Once you decide about which continent or country that you want to travel, you should choose your interest to find the very best destination for yourself. As we already mentioned that are numbers of interests available from architecture to beach, camping, culture, golf, nature, skiing and more. Once the travel dates are entered (you can choose flexible dates), Google Destinations offers best accommodation prizes, airfares, flight hours and weather conditions. You already know how much your trip would cost, number of tourists around, and expected weather condition.
You can also check this short video about how to use Google Destinations tool:
Before we forget; you can also set your budget so that Destinations won't show you the destinations which may harm your budget.
How to Use Google Destinations Step 3: Book Your Flight and Accommodation
Once you reach the 3rd step you have two options: you can either learn more about the destination or you can book your flight and accommodation right away. In explore mode, users are offered information about the place, restaurants, landmarks, historical information, important facts and also itineraries which are followed by other travelers. You can simply click on the direction icon and use Google Maps to see the map of popular places that you need to visit.
If you wish to book your trip right away, then you are offered star ratings and reviews about places along with prizes so that you can get an idea about places that you will stay in and eat at. Once you decide booking an accommodation, Google re-directs you to another website such as Booking.com. Booking a hotel is quite easy using the search box which resembles this one:
In a nutshell, Google claims that they utilize the wisdom of crowd which takes travelers to most popular places which are also believed to be best destinations. This system may be the future of trip planning as the time consumption is reduced immensely. Nonetheless, travelers like us may still find planning a trip for days more appealing since planning is actually fun. According to a research, people feel happier while they are planning a trip more than they are on the trip. Time will show whether there will be more depressed people because Google Destinations have made trip planning much easier than ever.