Extreme Adventure Records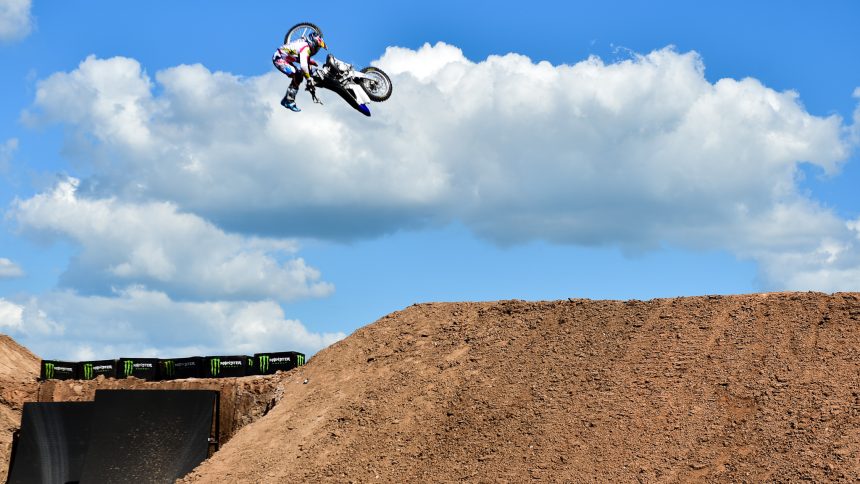 Extreme Sports World Records
August 5, 2015
The Guinness World Records certificate has been a symbol of prestige since its genesis in 1955. For 51 years, people have tried to be the best at the weirdest activities or features, such as being the most tattooed person alive, being the tallest person alive and being the fastest person who can run 100 meters on all fours. However, the record attempts of extreme sports enthusiasts require more experience and courage compared to the others.  Here are some of the world records broken by extreme sports enthusiasts and adventure travelers:
Fastest Motorcycle Handlebar Wheelie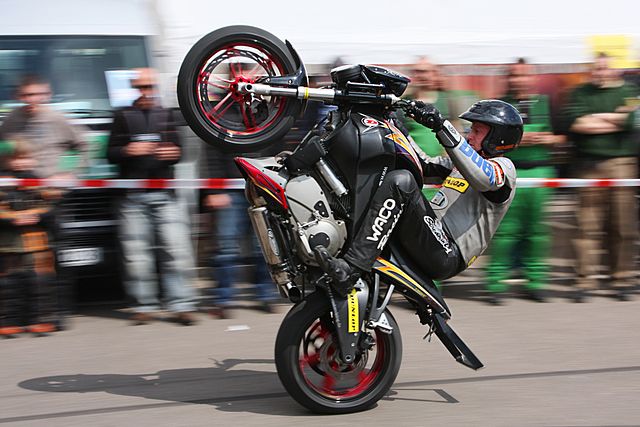 Irish Enda Wright managed to reach the speed of 173.81 km/h (108mph) during a wheelie on the handlebars of a motorcycle in York, England, on July 11, 2006. It proves that he can utilize his motorcycle as a taxi since he doesn't need the seat while trying the limits of his vehicle.
Highest Bungee Jump
Adrenaline is an addiction for some people. Therefore, such a scary activity as bungee jumping is like making an omelet for extreme sports enthusiasts like Curtis Rivers. The British man performed a bungee jump from a hot air balloon at 4,632 meters (15,200 ft) over Puertollano, Spain, on the 5th of May, 2002. He jumped using a 10 m cord which stretched to 30 m. After bouncing exactly 5 times he freed himself and landed on the ground thanks to his parachute. During the jump, the air was so thin that he had to use breathing equipment. It can be deduced that he definitely deserved the prestigious Guinness World Records certificate.
Greatest Distance Cycled in 48 Hours on a Mountain Bike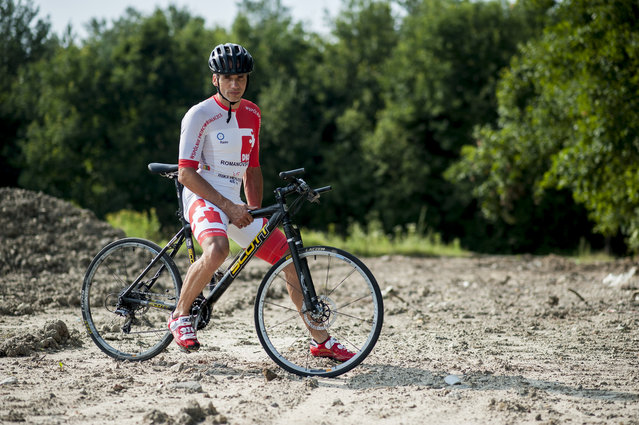 MTBs are the strongest bikes you can find at a bicycle shop. They are the 4×4 without engines, I'd say. However, if you are planning to bike for almost 800 km, then a MTB should be your last preference. Nevertheless, Valerjan Romanovski wouldn't agree with me it seems since he cycled for 748 km (464.78 miles) on a mountain bike for 48 hours on an off-road trail in Krubin, Poland, from 25 to 27 July, 2014.
Greatest Altitude for a Balloon Skywalk

Highest altitude for a balloon skywalk by guinnessworldrecords
Skywalk is a scary activity which makes you feel the limits of freedom and adrenaline, if you walk on the Grand Canyon Skywalk. However, not everyone follows the conventional ways to feel the vast emptiness below. For instance, British Mike Howard walked on a beam between two hot air balloons at an altitude of 6,552 meters (21,400 ft) near Yeovil, U.K., on the 1st of September, 2004. Hope he enjoyed the view up there!
Oldest BASE Jumper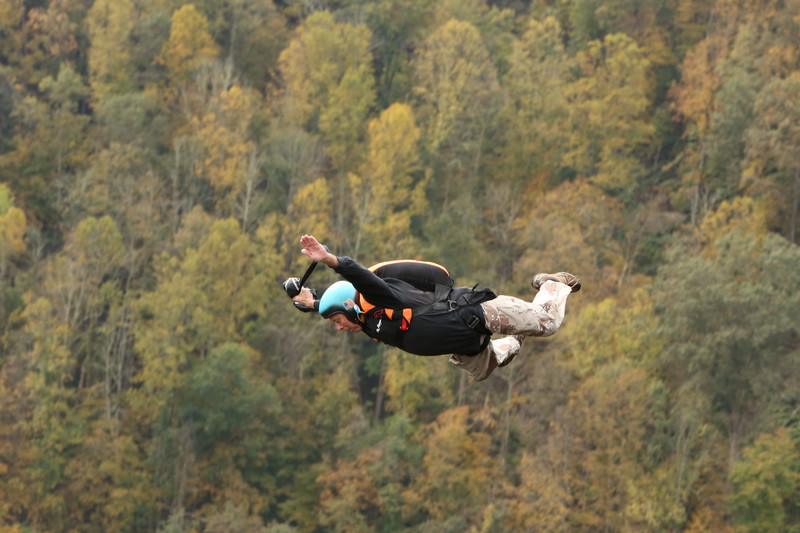 84-year-old Donald Cripps would definitely be the oldest member of the Dangerous Sports Club. This young-spirited old fellow parachuted off the 267 m high New River George Bridge near Fayetteville in West Virginia, USA, on 19 October, 2013. He is a perfect inspiration for extreme sports enthusiast to-bes.
Most Moto X medals X Games (Winter)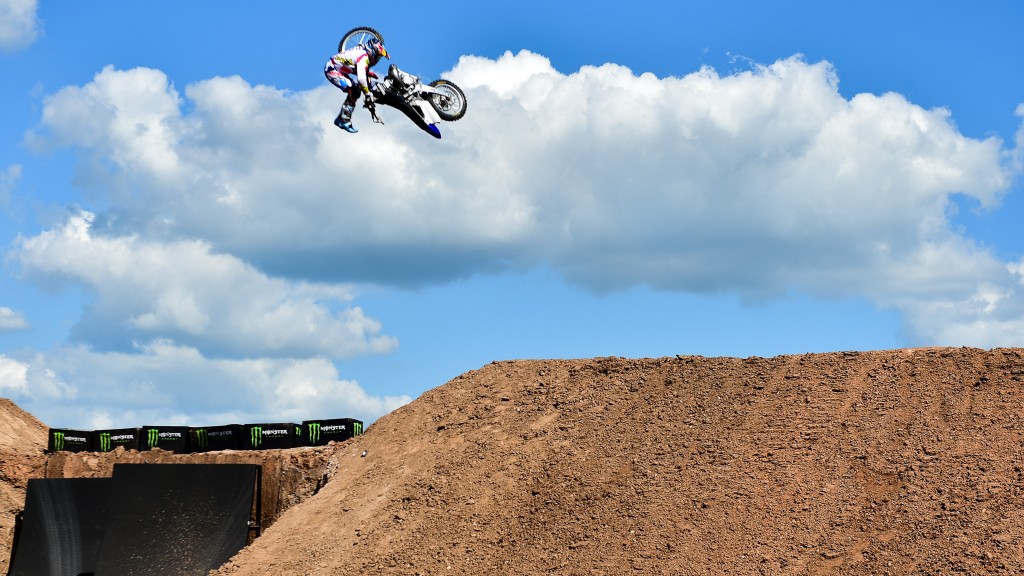 The X Games is an annual extreme sports event sponsored by ESPN. The X Games sports events include Flat Track, Moto X, Mountain Bike, Skateboarding, Off-Road Truck, and some other types of extreme sports. One of the most popular events is the Moto X races. Winning medals in this category may seem like a herculean task. Nevertheless, Mike Metzger, Mike Jones, Tommy Clowers, Caleb Wyatt and Brian Deegan managed to grab two medals each thanks to their abilities to fly their motorbikes to the limit.
Most Bars Jumped on the Back Wheel of a Trial Bike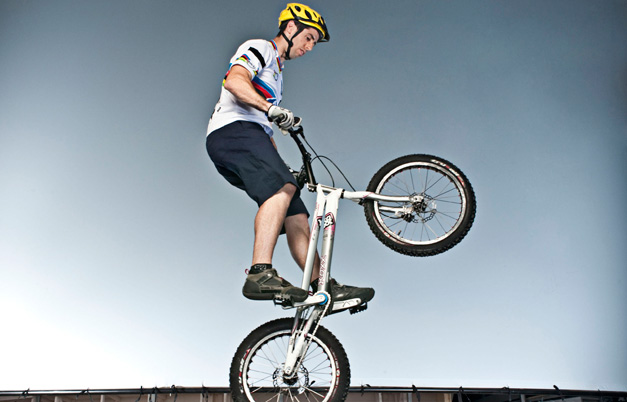 Do you know how long can you keep jumping on one foot? I assume it somehow depends on your bladder and the limit of your patience. Spanish Benito Ros has a similar talent: but a bit more sophisticated. On the 19th of April, 2009, he jumped on 48 gapping bars on the back wheel of a trial bike, on the set of Lo Show Dei Record in Milan. It proves that there are different ways to travel by bike once it gets tedious.
Highest Snowboard Air on a Superpipe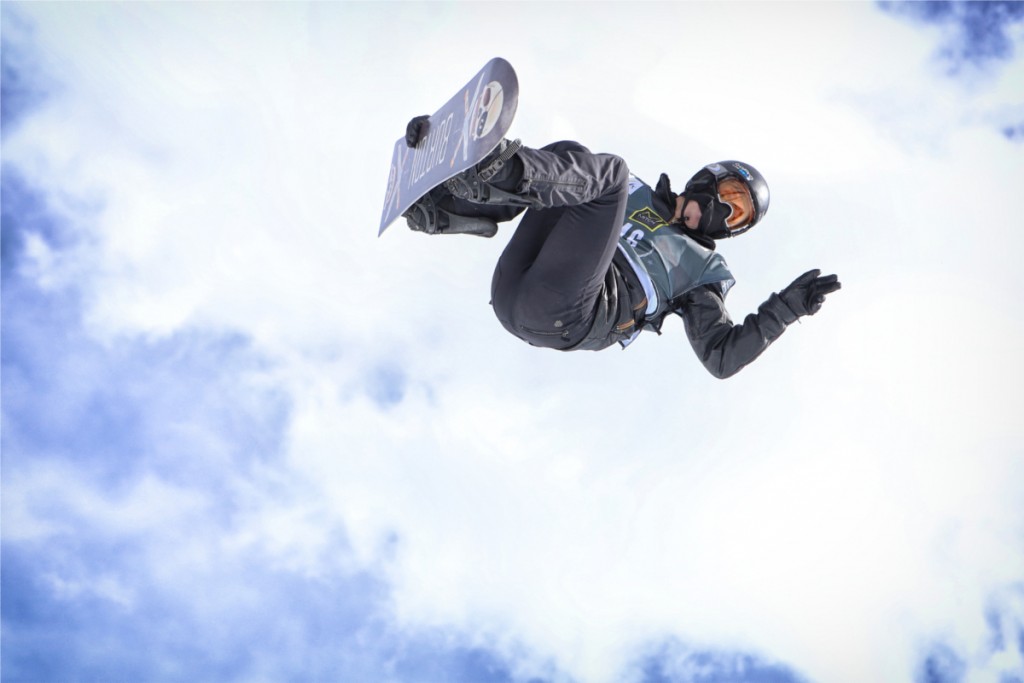 Snowboarding is mostly about the feeling freedom which is created by the speed achieved during a ride down on a hill or a slope. However, some people prefer going up instead of going down as if defying gravity. Well-known American snowboarder Shaun White fits into the latter category of people, definitely. At Winter X Games 14 in Aspen, Colorado, he jumped 7 m (23 ft) on a snowboard on a superpipe. Who needs wings if you have a cool snowboard, right?
If you envy these extreme sports enthusiasts, you can start trying your own limits. For instance you can drive on the most dangerous roads or try the most extreme watersports. If you have doubts, think about Donald Cripps!