Extreme Sports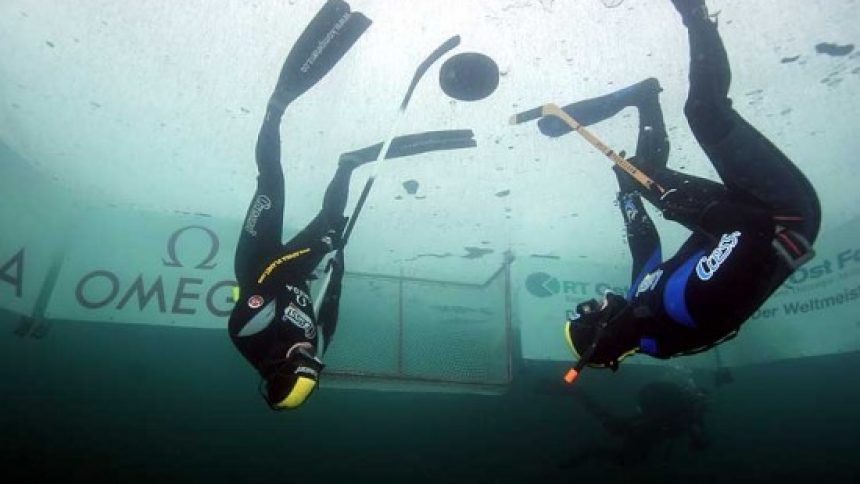 Extreme Places for Popular Sports
August 6, 2015
The mainstream definition of sports suggest that a sports activity should take place in a special area. This is a definition for people who follow the mainstream, enjoying the sweet limits of the comfort zone. However, for adventure travel enthusiasts, best places for adventure travel may serve as perfect venues for common sports. Have you ever thought about playing chess in the Dead Sea or playing football on Sahara desert? Well, here is the list of the activities which took place in extremely unusual places.
Arctic rugby
A group of rugby stars and fans, including former England stars Tim Stimpson and Ollie Phillips, headed to the northern-most part of the Earth in order to break a Guinness World Record. After trekking over 90 kilometers to the Magnetic North Pole, surviving harrowing winds, avoiding polar bears and withstanding a temperature of -30 degrees, they created a pitch at the Magnetic North Pole. Afterwards they played a full 7-a-side rugby match on the weirdest place to play rugby. The aim was not only consuming 6,000 calories a day to fight off the cold, but also raising over £300,000 for Wooden Spoon, the children's charity of rugby supporting disabled and disadvantageous children in the UK and Ireland.
Formula One on the Bosphorus Bridge
Former Formula One driver David Coulthard drove his RedBull F1 car from all the way from Europe to Asia and the way back. On the morning of 17th of July, 2005, spectacular Bosphorus Bridge was far away from its usual appearance of a traffic jam due to the fact that one of the fastest cars on the Earth was about to pass through it. Coulthard drove his car on the bridge twice completing his show successfully; however he couldn't escape from getting a fine of 20 Euros due to the fact that the automatic surveillance system caught him while passing through the toll booths without buying a ticket. After all, the Bosphorus Bridge can be regarded as a more unusual place to drive a Formula One car than Monte Carlo due to the chance of getting a ticket which can be kept as a souvenir.
Tennis on Water
Walking on water is a miraculous act; well, at least it used to be until ATP pros Rafael Nadal and Roger Federer played tennis on a court that was constructed on water, in the capital city of Qatar, Doha. Naturally, they couldn't play competitively since they were literally on the water. However, it was a fantastic experience according to Nadal. It is hard to tell whether playing tennis on a wet court is more fun or not. But, apparently it was an exceptional game for Federer and Nadal, as well as the spectators.
Golf on Glaciers
If you are an extreme sports enthusiast, then you will definitely understand the aim of the organizers of the World Ice Golf Championship. Greenland is definitely among the most extreme places on the Earth for any kind of activity related to sports. If you are an adventure traveler and enjoy playing golf, the golf course on the island of Uummannaq is the right place for you. Ice golf is played with a red golf ball which is clearly visible on the white surface. It is a place where you don't expect to see a grass ground and trees all around. All golfers have is the view of icebergs. It may be difficult to get used to the climate in Greenland; however you can take it as a source of motivation.
Basketball on a Desert
Basketball is particularly an indoor game since weather conditions can affect the outcome of the game drastically. Thus, taking the game to an outdoor venue is usually out of question. However, it is still a challenge to accept for some NBA bosses and players alike. The first outdoor NBA game was played between the Phoenix Suns and the Milwaukee Bucks on September 24, 1972, at Hiram Bithorn Stadium in Puerto Rican capital San Juan. It was obviously a venture full of obstacles for both teams.
Nevertheless, adventure traveler-spirited part-owner of Suns, Dick Heckmann, came up with a brilliant idea: taking the level of adventure one step further. As a product of his imagination, Phoenix Suns and Denver Nuggets clashed at the Indian Wells Tennis Garden in Indian Wells, California. There is a fact that you should keep in mind: Indian Wells is located in the Coachella Valley which is actually a desert valley. In other words, the game was played on a desert literally. Low temperature and wind turned the basketball game into a competition similar to the hunger games. However, it was still a success since the level of challenge increased the fun. As a result of the game, Nuggets defeated Suns 77-72. Suns organized this event twice more until they actually won against Dallas Mavericks in 2010. If Mr. Heckmann is looking for even more challenging places, we suggest him to follow the footsteps of adventure travelers.
Underwater Ice Hockey
We have seen people playing backgammon under the water, but even this can be tedious for some people. Thus, Alan Blake uttered that hockey can be played under the water as well. It seemed like an odd idea in the beginning, nevertheless it has eventually become a popular sports. Blake called this new game Octopus. However, it came to be known as Octopush later on since it was mainly introduced as an activity to keep scuba divers fit in winter. Underwater Hockey became so popular that, CMAS (World Underwater Federation) organized the first Underwater Hockey World Championship in Canada in 1980. However, some Austrians were not satisfied with the challenge which was provided by the underwater hockey. Therefore, they took the game to a venue which is actually under the icy surface of a frozen lake. Underwater Ice Hockey is played without any kind of breathing apparatus. Thus, it is undeniably an extreme sport. Underwater Ice Hockey definitely deserves to be on the top of the list of sports which take place in extreme places.