Adventure Travel Destinations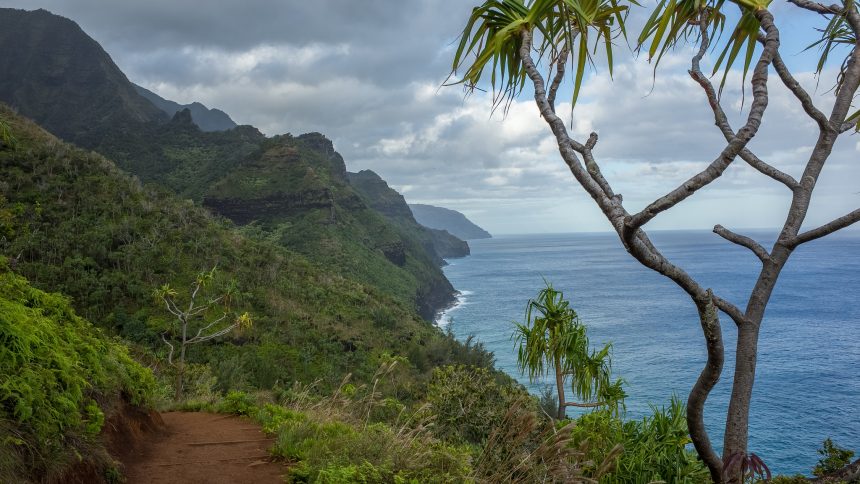 Island Paradises You'll Love with the Best Hikes
September 7, 2015
When we think of tropical island paradises, we hardly consider them to be good hiking spots, but at Adventure Herald we decided to do a round up of the best hikes in some of the world's most beautiful islands and archipelagos. So if you wish to go hiking on your next holiday, and your partner prefers to lie on a beach, there is no need to compromise, just check out these hiking spots on island paradises from the Caribbean to the Pacific.
Photo by Heath Cajandig (Hawaii)
Hiking in French Polynesia
Polynesia is famous for pristine waters, beaches and Gauguin's paintings, but in the backdrop, you'll always catch a glimpse of amazing mountains towering above the paradise resorts. While French Polynesia is a tourist hub of honeymooners, expect to have the mountains to yourself.
If you are in Tahiti, you might want to attempt a climb to Aorai, the second highest peak on the island after Orohena. It's said to be the best climb in French Polynesia, sporting some of the best views in the world. The hike up here will take you through rainforest scenery and stunning views of the coast from the top.
A challenging hike up to the ridge between Mt. Mouaroa and Mt. Tohiea on Mo'orea island on the "Three Coconut Trees" Pass (named for 3 trees that were blown down by the 1980s cyclone) is another scenic alternative, as well as the Poumaka Route on Hakahau that goes round Mt. Poumaka. This hike offers views over the basaltic "pillars", set dramatically against the skyline.
Bora Bora might be paradise incarnate, but for the really fit, you can go and hike the island's iconic summits of Mt. Ohue and Mt. Pahia. It's a hard hike with some treacherous sections and tough scrambles, but the views will pay off. Do bare in mind there is a high risk of getting lost or injured on the way, so try to go as a group.
Hiking in Hawaii
Hawaii is home to some of the world's most beautiful hikes in the world. Kauai has some great hikes, like the Pipiwai Trail over to the Waimoku Falls. Adrenaline junkies might want to check out the Olomana Hike with plenty of challenges and plenty of views. This incorporates some moderate rock climbing, so it's a good one for something more challenging. For bonus points, try to go up the three peaks.
Another challenging hike is the Kuli'ou'ou Ridge Trail, that rises up 1800 feet before reaching the Ko'olau Ridge. It's steep with wonderful views. Locals recommend running to the top and back again, maybe only for the hardcore. For something different, you might want to try the Pihea & Alaka'i Swamp Trail on Kauai. This is the oldest island of the bunch, and has an unusual climate and terrain, where this hike will capture it all – from swamps, cliffs and a dramatic coastline, this hike has it all.
Hiking in Madagascar
Madagascar might be an island that is hidden off the tourist track, but it's a place where its surreal landscape, unique nature and lush flora and fauna make it one of the world's hidden paradises. You can even enjoy multi-day trekking through the island, with incredible mountain scenery and rainforest walks. If it's lemurs you're after, then head over to Masoala Peninsula. This region is home to 10 species of lemurs in Madagascar, as well as various birds and plant species unique to the area.
For a tough, but rewarding hike, discover Bemaraha National Park, a UNESCO World Heritage Site since 1990, these limestone pinnacles called "tsingy" are a site you cannot miss. You can visit various trails that lead to this natural wonder, but to make the most of it, it's best to camp for a night. And last but not least, the Andringitra Mountains, these are a famous biological hotspot and a recognized climbing and hiking destination.
Hiking in the Caribbean
The Caribbean might all be about taking it easy, where you won't worry and be happy, but there are plenty of peaks and trails to explore. Gros Piton in St. Lucia is not just a spectacular hike, but also a World Heritage Site. Many attempt it, but only fifth of the climbers make it to the top, but the views are unbeatable over St. Lucia and nearby Martinique.
Nevis Peak on Nevis island is a classic former volcano carpeted in green with a small crown of clouds. The 3,232ft ascent to its peak is a struggle, and not for those prone to vertigo. This is a tough one for seasoned hikers and mountain climbers.
Hiking in the Azores
Hidden in the middle of the Atlantic, the Azores islands are a mysterious archipelago marking the most western territory of Europe (belonging to Portugal). These islands are havens of natural beauty and spectacular mountains. Since the islanders are connect by sea and hence via ships, plus the rugged terrain on the islands themselves meant carriages were not really used. Most of the paths in the Azores are foot paths, so perfect for hike lovers, especially since most of the trails have been restored. Each island has its own personality and unique beauty, but Pico Island is definitely the most popular for hikers.