Adventure Travel Destinations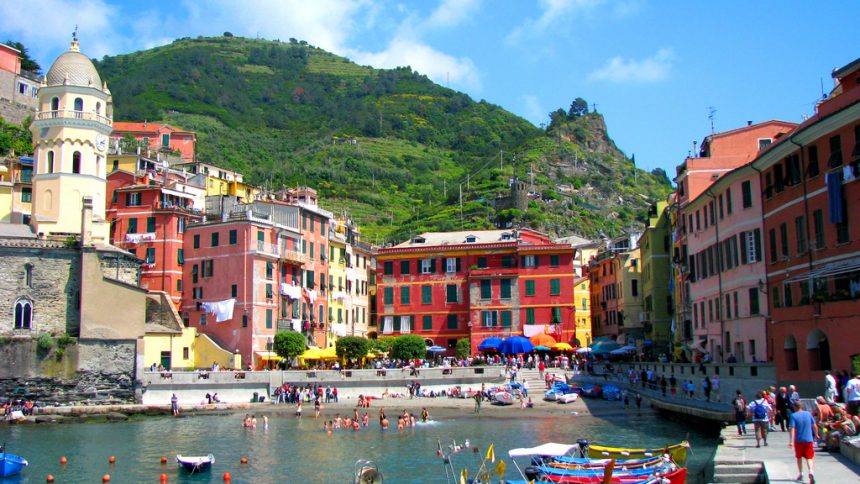 5 of Europe's Best Hikes and Walking Trails
May 5, 2016
May to September is the premium hiking period in Europe, so hit one of these walking trails and get the most out of Europe's exquisite natural landscape, and its balmy spring-summer weather! Tell us which is your favorite among Europe's best hikes and walking trails in the comments section below!
Cinque Terre, Italy
The Cinque Terre translates to "five lands" and is a coastal walk along a small section of the north western coast of Italy. The most popular trail is the Sentiero Azzurro or the "Blue Trail." This trail takes about six hours, however, many people choose to stop by towns along the way and do the walk over several days. Start in either Monterosso or Riomaggiore. The trail is split into sections, and there's always the Cinque Terre train you can jump on if you want to speed things along. There are a handful of other trails you can choose from – other than Traily No. 2 we just mentioned – if you want to head off the beaten path to something more rugged. Be prepared with appropriate clothes and footwear as this genuinely is a hike – not a casual stroll down some Italian lane-ways. April, May, September and October offer lovely weather without being too hot, while during June, July and August it's best to tackle the walk early morning or late afternoon. Aside from being one of Europe's best hikes, it's also probable one of the prettiest!
Alta Via 1, Italy
Staying in Italy but picking the pace up a bit from the Cinque Terre Trail, is Alta Via 1. This hike is a 120 kilometer trail through the Dolomites mountain range. It goes north-south between Dobbiaco and Belluno, and takes most hikers between 1 week and about 12 days. Trekkers typically do 4 to 8 hours of walking per day depending on how long you want to stop and savour views for. There are huts that you book in advance along the way, and these will also determine how much walking you do on any given day. While still being a formidable trek the benefits are that there is no ice climbing, no rock climbing and no so-called "via ferrata's," which are cables affixed to rock-faces that you can hold on to as part of a more challenging climb. Still the Dolomites are stunning and formidable, and 10 days of walking is nothing to be sneezed at. Attempt the Alta Via 1 when you're feeling fit and strong and that way you can tackle – and enjoy – one of Europe's best hikes. The views across the Dolomites are some of the prettiest views in all of Italy – and that's saying a lot considering how beautiful this country is!
Tour du Mont Blanc, France
This is one of the most popular hiking routes in all of Europe and certainly classifies as one of Europe's best hikes. At 170 kilometers long the Tour du Mont Blanc circles the entire Mont Blanc massif and passes through three countries – France, Italy and Switzerland – along the way. Typically people take 11 days to do it, although it is home to a ultra marathon where competitors aim to do it less than 24 hours! Of course, you can join the route at many points and there are also side-routes you can add. The main trail is marked by 'TMB' in a yellow diamond. There is accommodation along the way from dorm rooms to private rooms. The high points are at 2,665 meters above sea level, and although this is a demanding climb up, if you're relatively fit you should have no problems. If you love hiking in mountains then there's no better way to see and experience the rhythms of the Alps than by doing the Tour du Mont Blanc.
El Camino del Rey, Spain
We've already written about the El Camino del Rey in an earlier article about scary cliff-hanging hikes, and with good reason. Located in the Malaga provence of southern Spain, this short 3 kilometer makes up for with scariness what it lacks in length in comparison to the other walks on this list. Walking tentatively along wooden planks which are barely 1 meter wide as the sheer cliff face drops away beneath you is tantalisingly terrifying.The path itself was originally established to link workers of power plants at Chorro Falls and Gaitanejo Falls. Head to this narrow gorge at El Chorro for a bucket-list worthy experience, but remember that it is still considered dangerous and several people have died on this narrow trail, resulting in extensive renovations.
Laugavegurinn, Iceland
Iceland is one of the most scenic countries in the world and it has an abundance of adventure sports and adventurous activities to try. For hikers and trekkers, one of Europe's best hikes is Iceland's most famous and most popular hike – the Laugavegurinn Trail. It's about 55 kilometers and in that space you will see the diversity of Iceland's natural landscape: mountains, glaciers, hot springs, rivers and lakes. Summer is a nice time to go, as during other seasons the weather can make the trail a lot more difficult than it need be. There are accommodation huts along the way and you should reserve your spot ahead of time. The huts are predominantly only open about late June to early September. Another option is to camp in the designated spots near the huts (and you don't need to reserve camp sites), however, wild camping just anywhere else you like along the trail is banned. A good physical fitness is required because you'll be carrying heavy packs for about 15 kilometers of walking per day. Some portions of the trail are especially rocky, steep and slippery and this can be a challenge for many. Each year people injure themselves on parts of the trail, especially on the roaring rivers during bad weather, but if you go in good weather and are quite fit then it's quite an enjoyable trek. To find out more about what you can do in Iceland, check out our article on incredible adventure holidays in Iceland.