Adventure Travel in North America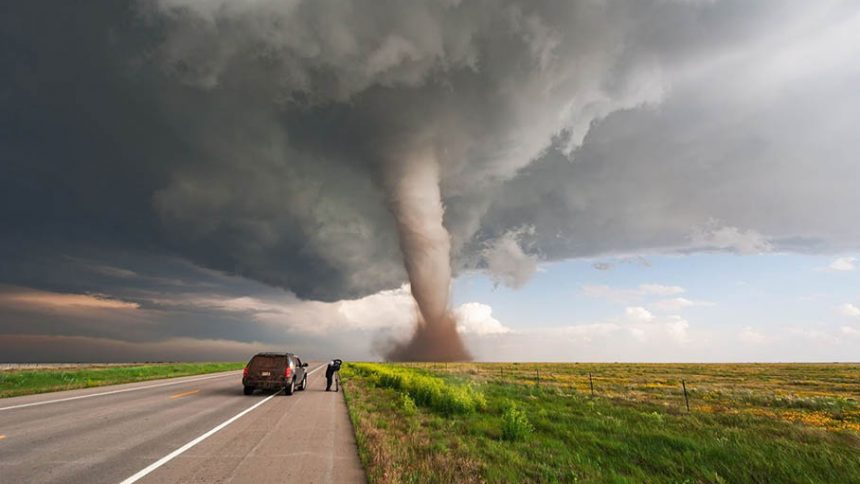 Tornado Chasing is the New Extreme Adventure of the Era
January 21, 2016
What is the most extreme adventure destination you can imagine? Freediving in Indonesia, or ice-climbing in Norway? Maybe these sound too chilled. Shark-cage diving in Australia, or extreme kayaking in Chile? Still not enough? Well then, we have the ultimate adventure for you: tornado chasing in the United States. 
Tornado Alley in America might be an adventure for you if you often find yourself staring in the distance looking for lightning and waiting for the storm to hit above your head. Tornado Alley is the most likely place you can catch a tornado – or get caught by one –  hence the name.. It is located between the Rocky Mountains and Appalachian Mountains, but the exact borders cannot be identified.
Thanks to the tornado chasing map, the route is quite predictable, usually starting from central Texas going towards Oklahoma, Kansas, Nebraska and Dakota.
Chase It and Film It
The first storm chasing tour company – Storm Chasing Adventure Tours –  is located in the valley, offering a wide variety of tours and programs depending on personal preferences.
These chasing tours are beloved by all the popular news crews and film makers – National Geographic Television & Film, CBS 48 Hours, NBC Nightly News, The Discovery Channel, BBC World TV, CNN News, The Weather Channel, FOX News, The Travel Channel –  since the company provides all the technological and professional circumstances for tornado chasing in the United States.
What you can expect during the 6-day tour is loads of traveling with a perfectly equipped car – which has a radar software, mobile broadband data connection and cutting edge telecommunication equipments – and hopefully a huge tornado, or at least a supercell thunderstorm waving at you far ahead.
Daily Schedule of Tornado Chasing
After analyzing all the data from air and land, forecast models and weather conditions, the best weather target for the day is determined.
The chase usually starts at 9 a.m. and finishes at 10 p.m., and during the day continuous connection is being held with the National Weather Service to report injuries and property damages in local areas hit by relentless storms.
Tornado chasing in America is a real 'once in a lifetime' experience, but without a camera and your sense of adventure you are not a real chaser.
Unforeseen Circumstances
An essential question might be on the tip of your tongue at this point, "What if there is no tornado?" The only thing you should be aware of before leaving for a tour like this, is the unpredictability. The likeliness of observing a tornado cannot be guaranteed for you, since they happen only on 25-30% of tours. So you should be prepared for the possible disappointments. However, if you are not so lucky to catch a tornado, you can still expect having a delightful adventure, seeing a great storm structure and monitoring the stunning landscape of the Great Plains.