Adventure Travel Destinations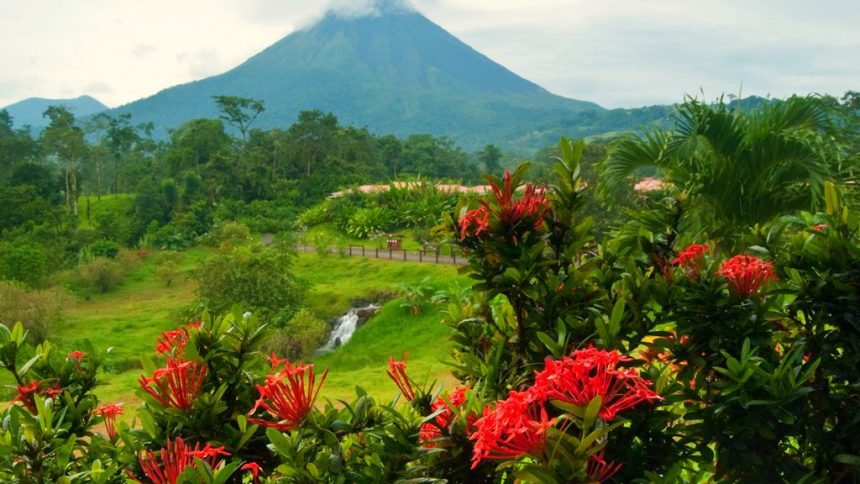 The Best Adventures in Costa Rica
September 18, 2015
If there is a country that embodies everything you expect from the word "adventure" it's Costa Rica. Where all its trails lead to waterfalls and adrenaline pumping courses through jungles and mysterious landscapes, this is the country you'll want to visit if you love combining travel and extreme sports.
From exotic hikes to white water rapids, you can find every single form of outdoor adventures in Costa Rica to satisfy even the most extreme thrill seekers out there.
Photo by Marc Cappelletti.
Hike a Volcano
Since Costa Rica falls into the Pacific Ring Fire Circle, you can find volcanoes and volcanic formations across the country. There are over 200 volcanoes, but only 100 show signs of volcanic activity today and 5 are classified as active. The country has its volcanic heritage to thank for its unique landscape diversity. Arenal is perhaps the most famous of Costa Rica's volcanoes since until recently it was the most active in the country. Hikes in the area can last around three days from the volcano to the forests of Monteverde.
However, if you like your volcanoes more active, then head over to Poás Volcano, which has one active crater (the others are dormant). What's fascinating here is the active volcano has a lake of boiling acid, while the others house fresh, icy cold water instead, which actually forms the base of the Rio Sarapiqui.
And since three is a lucky number, the third volcano you can hike is the dormant Irazu Volcano, where you have amazing views of both the Pacific and the Atlantic from its summit, not to mention the hike up is stunning.
White Water Rafting
The years of torrential weather has carved Costa Rica's canyons and valleys which make for a great base for white water rivers. The best known rivers in the country, the Reventazon, Pacuare and the Corobici, cut through dense forests and bypass stunning waterfalls, and even get fast and rough at times. You can find great rafting opportunities for all ages and levels in Costa Rica. If you're a hardcore rafter, you might want to head on the course between Heredia to Limon, where you'll find Class III and IV rapids on the river Pacuare, ranked as one of the "Top 10 Whitewater River Rafting Destinations in the World" by Frommers. This river is surrounded by the Talamanca Mountains with fantastic scenery to accompany your adventure. The nearby Reventazon river, which runs parallel to Pacuare has a steady stretch of rapids that will appeal to daring adventurers.
In the Alajuela province, the Toro River has rapids from Class II to IV with 13km of continuous white water. However, if you like your rapids extreme, then the Reventazon River around Catago has over 10 miles of rapids ranging from III to V, with some really challenging legs of the course so you can really rest your limits!
Jungle Safari
Costa Rica certainly has plenty of lush vegetation and diverse wildlife, but the most popular safari destination is Tortuguero, where the beaches and black-canals sit side by side and are home to exciting species of animals, like jaguars, tapirs, caimans and more, not to mention sea turtles too. Also, you can explore the old jungles of Corcovado National Park on the Peninsula de Osa and take a few days to discover the local fauna, including multitude of red macaws.
Surfing Spots
If you like surfing, then you'll love Costa Rica, since the country has a choice of respected and esteemed surf breaks. Tamarindo is one of the favorites and a surf center for along time since you'll find established surf schools, board rentals, boat hires and good swells. If the surfing party town is too mainstream for you, then head over to the southwest part of the country to Pavones. The break here is one of the longest lefts in the world!
Diving on Cocos Island
Spoiled for choice for diving between two Oceans, there is no shortage of prime diving spots on Costa Rica, but for something special head over to Cocos Island, which was declared a World Natural Heritage Site by UNESCO in 1997. This island is located 543km off Cabo Blanco on Costa Rica's Pacific side and is a place where experienced divers can explore the natural treasures in the deep sea. The island itself has a diversity of natural landscape and environments, but underwater is a true treasure too. You'll find approximately 600 species of marine mollusks, 300 species of fish and 32 species of coral. Other wildlife include white tip sharks, schools of hammerhead sharks, parrot fish and tuna fish, among others. A truly extraordinary diving experience.