Adventure Travel Destinations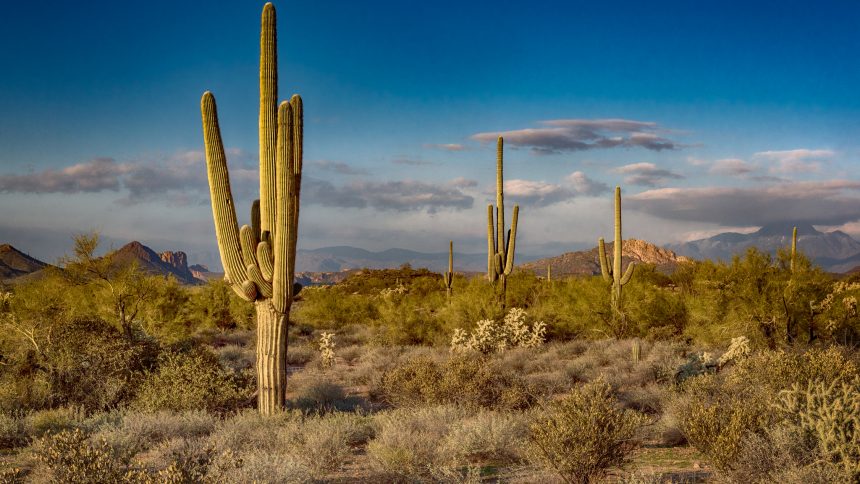 Most Beautiful Deserts in the World
January 19, 2016
Most of us conjure images of red rolling sand dunes next to a bright blue, cloudless sky when we think of desert scenes. But the most beautiful deserts in the world are made of various kinds of deserts, some are made up of vast salt planes, others have shrubs and cacti, others offer boulders and giant rock formations, while of course some are just those red rolling dunes many of us picture. One desert – not listed here – is actually found in Antarctica! Plan your next adventure holiday to one of our favourite 'barren,' yet surprisingly fruitful destinations on earth.
Namib Desert
The Namib Desert is located in Southern Africa in parts of Angola, South Africa and Namibia. It's considered to be one of the oldest deserts in the world and  it's particularly interesting because it's partially located on the Atlantic coast. Visit the Sossusvlei area from Namibia and see some of the largest sand dunes in the world – sand duning anyone? The Sesriem Canyon is another popular destination. Finally once at Sossusvlei don't miss climbing Dune 45 (pictured above) – at nearly 200 meters tall! This might seem like nothing, but combine the hot sand, heat and the moving sand underfoot it could pose quite a challenge, you'll see!
Salar de Uyuni
This Bolivian salt flat has got to be one of the most incredible desert scenes on Earth. It's possible to drive over the salt flat that is several meters thick and in winter it's covered in a thin layer of water that is still possible to drive over and is beautifully reflective. 4×4 three or four day tours of this desert are the norm and can be booked when in the city of Uyuni in the south west of Bolivia. You might be surprised to learn that the Salar de Uyuni is home to pink flamingos as well, and you'll likely meet them on your tour.
Wadi Rum
One thing you must not miss is the chance to sleep under the stars for a night or two in Jordan's Wadi Rum desert. Pretty much the only structures here for tourists are the Bedouin tents that are set up for overnight stays. You can usually find these tours from Aquaba, Petra or Amman (the capital). Some of the top sites here (aside from the giant rock and dunes) include Jebel Umm Fruth a bridge formed out of a giant rock. While you can sleep inside the tent, many choose to sleep outside looking out at the stars.
Rub al Khali
This sandy desert covers large swathes of the Arabian peninsula touching the countries of Saudi Arabia, Yemen, Oman and the UAE. This desert is one of the hottest on our list with average temperatures of 47°C and even reaching 51°C. Rub al Khali is dubbed the "Empty Quarter" but there are nomadic tribes – and camels that live here. Easiest to get to this desert destination is via 4×4 from Abu Dhabi or from Riyadh. It's best to go on a pre-arranged tour, or be supremely confident in  your 4×4 driving ability on shifting sands, as well as navigation in these vast empty spaces, local culture and legal requrements, plus – importantly – checking up to date security and safety information. It also must be said that having plenty of snacks, an abundance of water, plus GPS and communications devices with you are a must if you do set out on your own. Some just go for a few days to see the vastness of the land, while other tours go for several weeks which can include walking portions and camel rides.
The Sahara
The Sahara is probably the most iconic of all the world's deserts. It stretches across vast swathes of northern Africa including: Algeria, Chad, Egypt, Libya, Mali, Mauritania, Morocco, Niger, Sudan and Tunisia. The Sahara includes many little towns and cities, oases, rock formations, and various types of typical desert scenes like giant red sand dunes. This is the largest hot desert in the world, and not all parts are safe for travellers to visit; you should always check before setting off or go via a reputable tour. Most commonly tourists would set off from either Egypt or Morocco. If you're heading in from Egypt many also stop by the White Desert. One thing all adventure travellers should do is sand duning or sandboarding in the Sahara. Bragging rights right there. Like in many other deserts it's also possible to go dirt biking and ATV riding or do other kinds of adventure sports.
Painted Desert
The United States is home to many deserts, including the Painted Desert in Arizona. It's named because of the main beautiful colours naturally forming in the desert sands, and layers of desert that have formed into rock. Much of this desert is part of the Petrified Forest National Park where motor travel is restricted, but there are shorter and longer walks you can do here on the marked routes. Special permits are required if you want to go off the official paths.
Atacama Desert
We wrote about the Atacama Desert last year, when it made a rare spectacular show with flowers in full bloom. The long and narrow desert covers parts of Chile, Peru, Bolivia and Argentina, and is wedged between the Pacific coast and the Andes mountain range. Despite being one of the driest deserts in the world, there are desert flowers there that bloom in September, October and November IF there is enough precipitation. In terms of adventure sports various car rallies have taken place here, and people come from all over to try sandboarding, the week-long foot race called the Atacama Crossing, the Volcano Marathon (yikes!), and of course on 4×4 tours just to experience the varied natural landscape. This natural landscape includes dunes, geysers, lakes, and dramatic valleys.
Chihuahuan Desert
Located on the US and Mexico border, the Chihuahuan Desert is great not just because it shares a name with those cute little dogs that Paris Hilton was particularly fond of, but because of its beautiful geography. This includes the Sierra Madre mountain ranges, river valleys formed by the Rio Grande, Big Bend National Park in Texas, plus seeing the desert shrubs and other flora and fauna. By the way if you want to see that typical American desert scene with cacti galore, head to the neighbouring Sonoran Desert – you'll find Saguaro Cactus aplenty here, similar to that pictured in the cover photo of this article.