Extreme Sports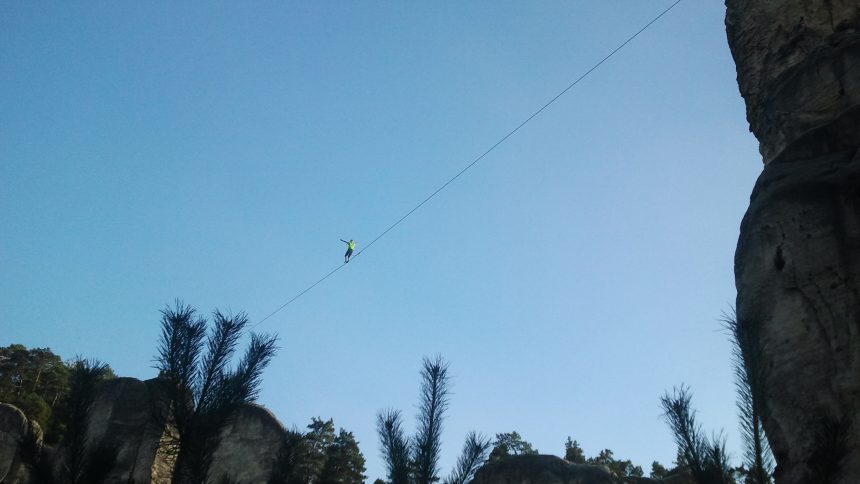 "The Kid" Sets a World Record for Longest Blindfold Slackline Walk
January 2, 2018
Pablo Signoret, an 18-year-old French athlete who also goes by the pseudonym The Kid, has set the world record for longest blindfold slackline walk.
Photo by: Magda.pp
The impressive feat was completed as part of the 2017 International Highline Challenge at Shimenguan Geopark near the city of Dali, China.
Slacklining as an extreme sport is just beginning to pick up in popularity. One might liken it to tightrope walking as it has similarities. However, slacklines are looser than tightropes (hence the names) and those who walk along them do so without a pole to assist in balancing. The strap itself is known as "webbing" and is suspended above the ground and anchored between two points.
This is not the first slacklining world record Signoret holds under his belt. The youngster has previously taken part in the longest ever slackline walk in Navacelles valley in southern France last year, where the 1.6 km slackline was walked by two fellow French athletes, Guillaume Barrande and Nathan Paulin on June 9.
While slacklining may at first look like a pretty dangerous extreme sport, the unofficial governing body of slacklining claims it is one of the safest extreme sports to participate in. Only one death has been reported since slacklining's beginnings, as found in a 2016 accident report from the International Slackline Organization.
"A lot of people tell us that we are crazy and when they see it from the outside they think it's very dangerous," said Antony Newton, president of the International Slackline Organization.
"As soon as the line is up and you leash yourself to the line, we have a harness like climbing and we have a rope to attach to us to a ring on the line, and as soon as you are attached to this ring, nothing can happen to you."