Extreme Sports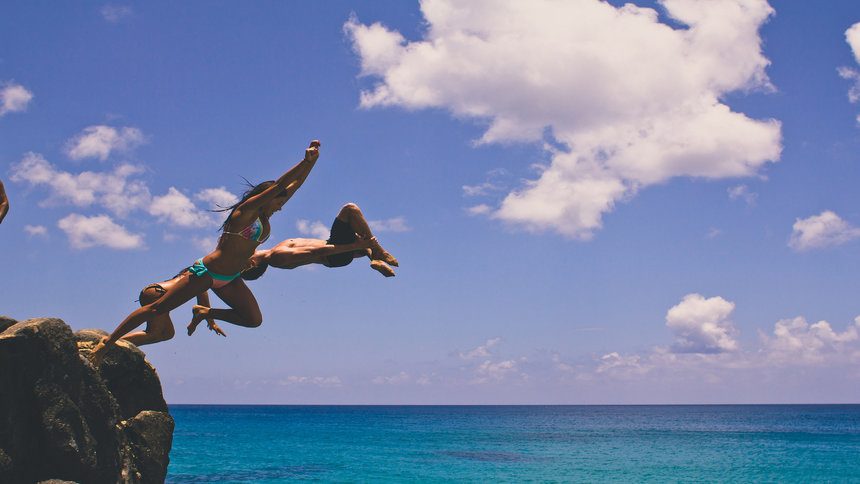 Cliff Jumping: The Wildest Cliff Diving Locations
April 19, 2016
With the hot months just around the corner in the Northern Hemisphere, we're taking a look at the world's top cliff jumping locations. Giant cliffs over clear waters are a great find for those who enjoy cliff diving, and usually found on islands or coastal areas, but sometimes in canyons or waterfalls over rivers as well. Remember, to check with locals how deep the water is, as anything that is too shallow could be very dangerous including paralysis or worse! Here are our favorite wildest cliff diving locations to add to your bucket list.
Wang Long Bay Krabi, Thailand
Krabi is a state along Thailand's west coast and is very popular with adventure sports lovers and sun seekers. It's particularly popular with rock climbers, and what's one thing you can do when you reach the top of a cliff? Jump off of course! Krabi's cliff jumping hotspots include: Maya Bay and Viking Cave on the Phi Phi islands, where the Red Bull Cliff Diving World Series is held; Thaiwand Wall where you can go cliff jumping and base jumping; the Phra Nang area of the Rai Leh coastline; or Tonsai Beach where you can also go deep water solo climbing. Deep water solo rock climbing uses the presence of water at high tide to protect you if you fall – as you'll be falling into water as opposed to rocks. Not for the inexperienced. Check out this video for some inspo!
The Kimberley, Australia
The Kimberleys are an example of a cliff jumping location being inland – not on an ocean coastline. The Kimberley in Western Australia has plenty of cliff jumping locations, and you can choose from canyon jumps, waterfall jumps, mountain jumps and gorges. Experienced jumpers should head to Ord River, where you can jump 28 meters into deep water.
Santorini, Greece
You might not associate the Greek islands with adventure sports but Santorini is well-known as a cliff diving locale. Head to Amoudi Bay and either swim off the rocks or dive into the bluest of blue warm Mediterranean waters. You can also head to Kamari Beach or the Port of Oia. So, while Santorini definitely has a more laid-back feel than Ios or Mykonos it doesn't mean that thrill seekers at heart can't find an adrenaline rush amid the beautiful blue and white homes, and stunning scenery. Check out this amazing GoPro footage:
Oahu, Hawaii
Hawaii has several cliff jumping spots. Where if you're brave enough your are rewarded by landing (hopefully, not belly flopping) into emerald-colored waters. Experienced cliff jumpers can tackle Spitting Cave at Portlock Point, the challenge is not so much the approximately 30 meter jump but that the waves crash in so intensely you could get slammed against rocks and the cliff wall itself. People have died here, so really this is only for experienced cliff jumpers and swimmers. Nearby is the less intense China Walls live jumping location. Here there are jumps ranging from 5-10 meters, and it's OK even for novices. Waimea Rock near Waimea Bay (which is one of the world's most intense surfing destinations) is another good spot for beginners when the surf is not intense. If you've caught the cliff jumping buzz, then you can also check out Laie Point and Maunawili Falls, the second of which is not into the ocean but in a waterfall found in a rainforest where the jumps range from 15-25 meters.
Anyway, let's get back to Spitting Cave for a moment, it's not called the "Leap of Faith" by locals for no reason. Check out this video, if you dare:
Quebrada Cliff, Mexico
Mexico has a group of locals at Quebrada Cliff, who perform amazing cliff jumping routines almost on a daily basis. They're known as the La Quebrada Cliff Divers and the group is made up of professional high divers who jump about 35 meters into the water while doing summersaults or other diving formations like tuck, straight or pike. As you can see in this video, aside from the jumps they also do some synchronised swimming. For the average person, this is a dangerous spot to jump, but experienced jumpers may give it a try. The jumps here have to be particularly well-timed, the rocks can be slippery, there are strong waves and a jump that goes wrong could see you hitting something other than water. Consult with locals!