Aerial Adventures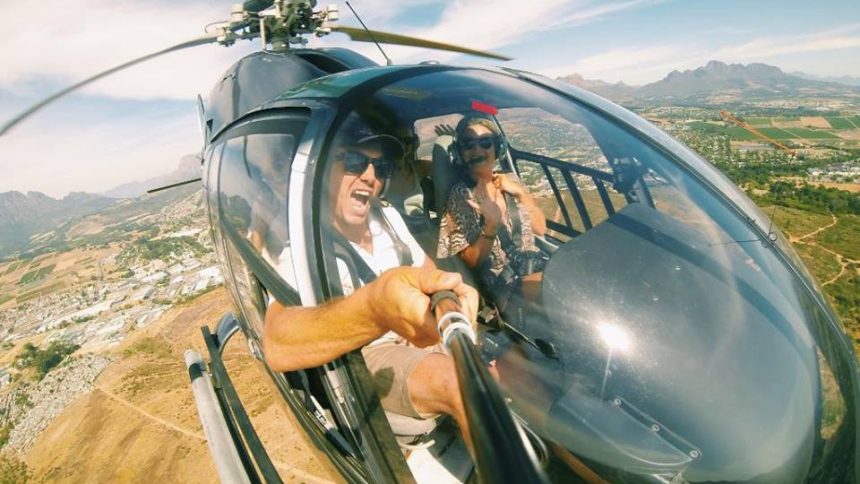 Scenic Helicopter Flight Locations
April 27, 2016
Riding in a helicopter is not something everyone gets to do. Even those bursting with frequent flyer points, often have never set foot in a helicopter. Here are some of the world's best scenic helicopter flight locations, and for those with the need for something a little more extreme, here are some of the spots you can skydive from a helicopter.
Scenic Helicopter Flight Over Franz Josef Glacier
There are several tour operators offering helicopter flights over New Zealand's incredible Franz Josef Glacier on the South Island. Some tours even combine the heli flight and hiking. The chopper lands on the glacier itself, then this is followed by a few hours of a guided hike on the rugged icy mountains. The views are amazing, and coupled with the thrill of a helicopter ride, this is a must-do for those with a budget travelling in New Zealand. The total duration of this tour is about 4 hours, usually including about 2 hours of hiking and all the equipment you need. The helicopter will pick you up and drop you back to the township your collection was arranged from. Heli hike tours are also offered of the nearby Fox Glacier, so take your pick!
Scenic Helicopter Flight Over Iceland
Iceland is a vast landscape that is difficult to access using public transport or even driving. A helicopter tour allows you to take in the varied landscape without hassles. There are less expensive offerings which allow you to fly over the capital, Reykjavik, for about 20 minutes; or longer tours (which are also more expensive) which take you over Iceland's glaciers and volcanoes; the island's geothermal pools, craters and lava flows; or Iceland's waterfalls and valleys. It's also possible to go heli hiking or heli skiing in Iceland. One tour company, Extreme Iceland, also offers a 7-day helicopter tour of Iceland (which is more than 10,000 euros!!!) but the benefit is that the chopper takes you from place to place and includes skiing within the Arctic Circle and tonnes of other activities.
Scenic Helicopter Flight Over Himalayas
There are many tour operators and scenic helicopter flight packages to choose from. Most of the most popular are about 1 hour and fly over the Himalayas including Mount Everest and Kathmandu. For lazy people or people unable to do the trek to Everest Base Camp itself (from where many Everest mountaineers commence their Everest summit push), there are helicopter tour companies that will land your right at Everest Base Camp. From there you can spend some time (even a few days if you wish) and then catch a helicopter back to Kathmandu Airport, or hike downhill.
Scenic Helicopter Flight Over Ethiopia
While Ethiopia, in Africa, might not be the kind of place you'd associated with scenic helicopter flights, the Ethiopian Helicopter Safaris is definitely one for the bucket list. The multi-day tours generally start in the Ehiopian capital, Addis Ababa, and include spots like Lalibela, the Blue Nile Gorge, fly over the Tekeze River, land at the Simien Mountains, and head to the Danakil Depression – a place of acid lakes, volcanoes and giant salt pans. These week-long tours don't come cheap and can cost tens of thousands of dollars per person.
Scenic Helicopter Flight Over Cape Peninsula
In South Africa's city of Cape Town, there are several helicopter tour operators that offer short scenic flights over the stunning Cape Peninsula. One tour offers a 50 minute round drip from Cape Town to the Cape of Good Hope, while other options include flying from Cape Town over to Robben Island (where Nelson Mandela was imprisoned), or that take in just Hout Bay and False Bay without going all the way down to the tip of Cape Peninsula. No matter which you choose you will see the city from above, the cliffs meeting the shore and and a view of Cape Town like very few get to see it.
Scenic Helicopter Flight Over Iguazu Falls
An alternative way to see the Iguazu Falls, which border Argentina and Brazil is a panoramic helicopter flight over one of the most tremendous waterfalls in the world. The heli flight over just the Iguazu Falls themselves are only about 10 minutes, but if you're yearning for something a little longer there are 30-40 minute flights which also cover the Paraná River, Devil's Throat, the Bosetti waterfalls, and the 3-way border shared by Brazil, Argentina and Paraguay.