Extreme Sports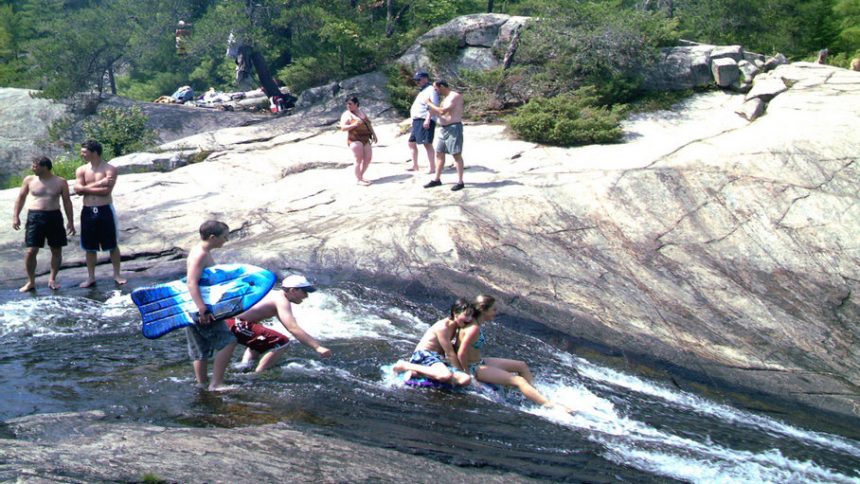 Insane Natural Water Slides
April 14, 2016
With warmer weather finally just around the corner, it's time to start thinking about your upcoming summer-time water sports related adventure travel destinations. Water slides aren't just for children. Oh no no no no! These insane natural water slides are for people of all ages – especially the young at heart!
Taveuni Island, Fiji
There's a cascading series of waterfalls on Fiji's Taveuni Island called the Waitavala Water Slide. It's a bit of hike and scramble to reach the top – about 20 minutes from Waiyevo. Follow what the locals are doing, some say it's too dangerous to attempt from the top of the waterfall, or if there's too much water. This natural water slide is great if you want a bit of thrill, and you don't mind getting some bruises and grazes on the way down. At the end of your slippery dip you'll end up in a little pool at the bottom. Check out this very cool video for an idea of what the Taveuni natural waterslide is like.
Damajaqua Cascades, Dominican Republic
The series of 27 waterfalls making up the Damajaqua Cascades are one of the Dominican Republic's top tourist attractions. Often people tackle them on a tour, and most tour providers supply a helmet and life vest to make things safer. If you don't mind a bit of jungle hike and a massive adrenaline rush, add the norther region of the Dominican Republic to your bucket list, because water slides aren't just for kids! This video will give you an amazing glimpse at what these natural water slides are like.
Meadow Run, United States
In the Ohiopyle State Park in the United States state of Pennsylvania, you'll find probably the most famous natural water slide in the world: Meadow Run. Meadow Run is about 50 meters long and ends by dumping you in about a 2 meter deep rock pool. The water here rushes a lot faster than it does in some of the other natural water slides that make this list. One general warning: wear shoes as the rocks can be very slippery. Check out a spectacular video of the Meadow Run natural water slide here:
Rere Rock Slides, New Zealand
The Rere Rock Slides of New Zealand is less a water slide, and more a giant flat bed of rock on which a thin layer of water means you can slide down, usually on a boogie board. This video will show you how this is even possible . Located on New Zealand's north island, not far from Gisborne, water sports lovers and thrill seekers should make the detour. Remember New Zealand is in the Southern Hemisphere so summer doesn't arrive there until December!
Sliding Rock, United States
In the United States state of North Carolina, each summer you'll find hundreds of children and adults in the Pisgah National Forest slip sliding down the aptly named "Sliding Rock" water slide. Here there's about a 30 meter sloping, flat sheet of rock. Thousands of gallons of water flow down the side of the rock, so this will be the ride of your life and you'll land in a pool several meters deep. Remember this is a popular destination, so you'll be sharing the location likely with dozens of others. Also, it's best to wear some kind of shoes to avoid cutting your feed on the rocks, and it's needless to say but the landing pool is about 4 meters deep so you must know how to swim! As with the other natural water slides mentioned on this list, it's best to check out a video to see what this slippery dip is really like: