Adventure Travel News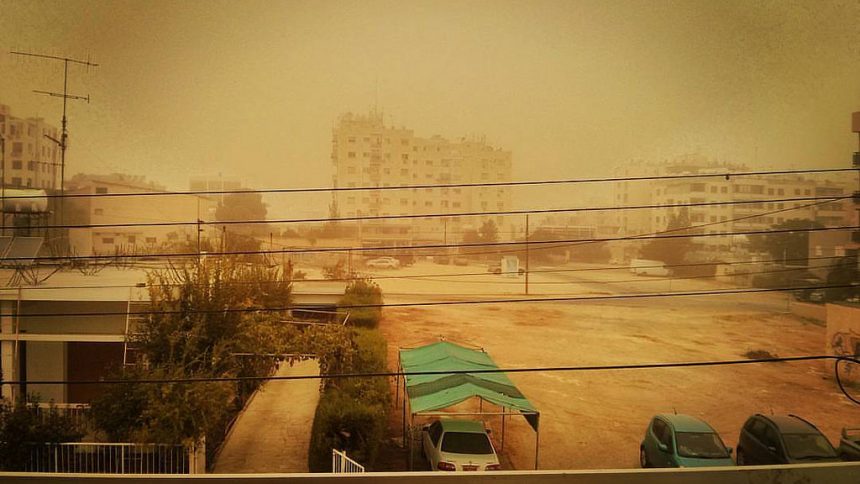 Huge Sandstorm in The Middle East Grinds Public Life to A Halt
September 9, 2015
The Middle East is being hit by a huge sandstorm, caused by a low pressure system over the region and sand blowing in from the east, for several days now. It originated in Syria on Monday and made its way towards Jordan, Israel and Lebanon on Tuesday. Also parts of Egypt, Cyprus and Turkey suffer under the extremely high concentration of sand particles in the air.
The yellow, dusty sky has strongly limited the visibility, which lead to a break of the fights in Syria, since the government air forces could not start. The high air pollution has also caused several thousand to be hospitalized with symptoms of dyspnea, breathlessness and asthma.  So far twelve people have died of asphyxia.
Schools have shut down in many parts of the region and people with health problems, pregnant women and the elderly are advised to stay inside. The possibility that the storm might affect flight routes and schedules cannot be ruled out yet.The storm is expected to weaken on Wednesday, but it will probably last till the end of the week. However, the visibility might improve a little from Wednesday.
This kind of huge sandstorm in the Middle East, also called haboob, needs hot and dry conditions to develop and is not uncommon for the region. However, these storm are usually not that strong and occur during spring, not at this time of the year. Additionally to the storm, Syria and Jordan suffer under a heatwave, which makes the situation even more dangerous.
Photo: Yellow sky over Nicosia, Cyprus. By Leonid Mamchenkov.