Adventure Travel in Eastern Europe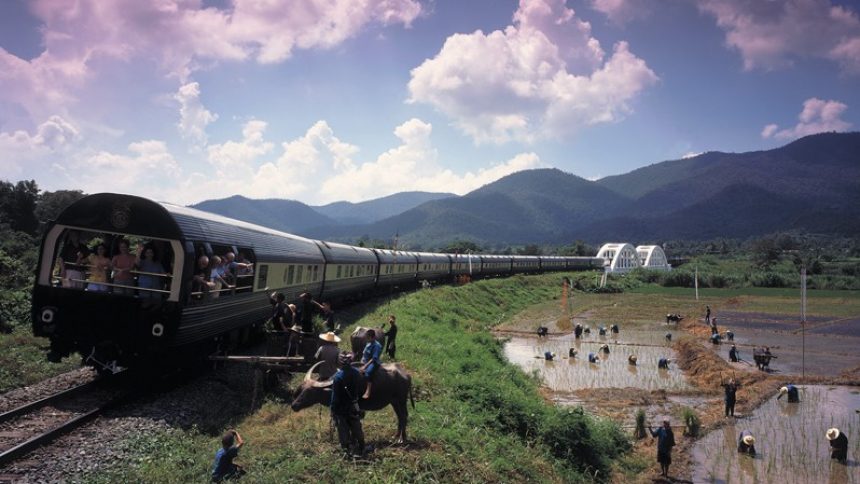 6 Epic Train Journeys You Won't Forget
November 17, 2015
Train journeys aren't always about getting to a destination, some train journeys are about the journey itself. Some of the world's most adventurous and exciting railway trips see this nostalgic and romantic mode of transport shine as the prime destination. From Australia, to India, and to southern Africa here are 6 epic train journeys you won't forget!
Eastern and Oriental Express
Heading from Singapore to Bangkok in Thailand (or vice versa) there's no better way to see the iconic Southeast Asian landscape than from the Eastern and Oriental Express. There are several routes, however, the most iconic – and most popular – heads via Malaysia and stops at some iconic spots like the historic River Kwai Bridge in Kanchanaburi. This is luxury train travel of 2 to 3 nights, and sumptuous meals are included. The train itself also has a colonial style observation car where you can sip cocktails and watch villages and the lush landscape dash past. This train journey is unforgettable, but doesn't come cheap, although there are usually some promotions on the official website. The Eastern and Oriental Express runs several times a month, most of the year (but beware of wet season as floods can close train tracks), and remember that you must book ahead.
Indian Pacific
Spanning the continent of Australia from Sydney in the east to Perth in the west, the Indian Pacific is a truly epic train journey. Covering more than 4000 kilometers it's one of the world's longest railway routes. Leaving Sydney, the train snakes its way through the stunning Blue Mountains before reaching the ex mining town of Broken Hill (of BHP Billiton fame). From there it's onward to the wine region of the Barossa Valley and Adelaide, before heading across the great Nullarbor Plain to Perth. Operated by Great Southern Rail, this train trip is an indulgent Australian experience with fine cooked meals and delicious Australian wines included. The whole route takes four days and three nights, but for those with less time you could also jump aboard in Adelaide. The tour also includes some off train excursions at stops like Kalgoorlie, Cook and the Barossa. There are different styles of cabins for different classes of service.
While in Australia you might also like to try The Ghan that heads south-north across the continent (or north-south) via the following route: Adelaide-Coober Pedy-Alice Springs-Katherine-Darwin.
Belmond Hiram Bingham Train
The Belmond Hiram Bingham train is considered one of the world's best train journeys, and if you're heading to Machu Picchu anyway, why not allow the journey there to be unforgettable as well? Decorated in 1920s style with ornate royal blue and gold decoration, this is a decadent way to experience the Peruvian landscape. The round-trip route is Cuzco-Machu Picchu-Cuzco and runs daily (except Sundays). On board, enjoy cocktails or fine South American wines.
Trans-Siberian Railway
Spanning the European and Asian parts of Russia, this near 10,000 kilometer railway route leads from Moscow to Vladivostok (via southern Siberia). There are some other alternative routes to this railway which lead from St. Petersburg via Mongolia to Beijing (the Trans-Mongolian or Trans-Manchurian routes), see a complete route map here. This journey is certainly not as luxurious as some of the other mentioned on this list, however, its sheer magnitude and scope make it one of the world's most impressive train journeys. There are first and second class cabins to choose form. Heading east you can even tack on an extension and end up in any number of destinations: Japan,  Hong Kong or pretty much anywhere in Southeast Asia – even as far south as Singapore! And why start your slow train travel in Moscow, really you could start in London and head to Moscow by train too? In the end you really could travel overland from London all the way to Singapore by train. What a wonderful idea!
Tickets on the Trans-Siberian are for specific dates and travel times, and there's no hop-on hop-off option, but if you want to do side-trips, it's possible to book stretches of the journey on a pre-arranged basis, which will give you time to take your time and look around. Very common stopovers include: Irkutsk in Siberia to see Lake Baikal and Ulan Bator in Mongolia for a visit to the Gobi Desert.
Maharajas' Express
You don't normally associate India with luxury train travel as it's often thought of more for its packed trains and people even riding atop carriages. But the Maharajas' Express brings a touch of class to Indian rail travel. There are a handful of different routes departing from either Mumbai or Deli, with stops in places like Jodhpur, Jaipur, Ranthambore and Varanasi. The different routes depart a handful of times each month, and fares include meals, some beverages and the pre-arranged off-train tours. The tag-line is to travel as the Maharajas of India once did, and you certainly will experience the finer things in life once aboard with world-class cuisine, gold and silver plated dining-ware, luxurious cabins and exemplary service. See another side of India – yes, we're all aboard!
Pride of Africa
Operated by Rovos Rail, Pride of Africa is as elegant and worthy of pride as its name suggests. With Pullman-style carriages (complete with opulent interior design) your journey with Pride of Africa will be reminiscent of 1920s train travel when luxury train travel was in its prime. Pride of Africa offers a number of alternative routes but typically passes through South Africa, Zimbabwe (including Victoria Falls), Zambia and Tanzania. Another route passes Botswana as well. Some say this is is the one high-end rail journey to do – if you only have budget for one. This journey is one of the longest on this list, with the full route taking approximately 15 days. Meals, South African wines and some terrific off-train side-trips are also included.